VB standouts named to NJCAA D1 National Honors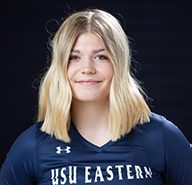 Perry honored for acedemic success
Sunny Perry is originally from Rupert, Idaho, and moved to Springville, her senior year. During high school, she received all-region honors, earned first-team all-region honors and was named first-team all state while leading SHS to the state championship game.
"It's hard to move your senior year because you just want that year to be the best year of your life. I was nervous that I wouldn't be able to make friends and wouldn't have my picture-perfect senior year.
"When I moved to Springville, people accepted me and it turned out to be one of the best years of my life," Sunny said.
She plans to major in physical education and kinesiology. Her dream job is to be a weight trainer for high schoolers.
"I'm really into the body, strength and conditioning," Perry said. "I've had some really good coaches along the way training me in high school and I think it's a good place to be to change peoples lives, make them better and make them have good mentalities about their bodies."
Perry has been playing volleyball since she was little and always wanted to play college volleyball. When USUE was the first to offer what she wanted, she said, "I guess it looks like I'm going to Price."
In five years, Perry hopes to be married and starting a family. She looks up to her mom as a role model in life. "She's a really strong person and she's gone through a lot in her life, it makes me want to be like her because of how she's overcome a lot of struggles." I just want to be as strong as my mom."
Perry loves her family and cherishes the memories made with them. "One of the simple joys in life would be family because you never know how long they're going to be there and when they're gone, you're gonna miss them like crazy," she said.
While attending USUE, Perry has set goals for herself. "A goal that I have is to get my associate degree, but want to go to nationals. It was a major goal this year that we wanted to achieve and we barely didn't get it and so now it kinda fires you up and I wanna get it next year."
Volleyball has always been Perry's talent and helped her throughout her life. "Volleyball relieves stress a little bit for me, being able to play makes me forget everything else off the court."
For her, the best day would consist of three things: family, good food and volleyball.
She takes after her name and is always seen brightening the room with a smile, she said, "I'm a positive person and I like to see the good in things."
Along with her bright personality, she also has a bold side. "I think my greatest strength would have to be that I don't let things that people say get to me."
For Perry, coming to Price and being away from her family was hard, but that didn't stop her. "The biggest risk I've ever taken would probably be coming to a place I've never been before, being around a team I've never played with and being at a school full of people that I don't know, but I'm still thriving"
Regarding the volleyball season, she said, "my team is the absolute best, we're just hilarious together and do a lot of crazy things together; the hotels, bus rides, pre games, it's been a ride."
"My favorite moment is kind of collective, but it's like something that happens in every game and certain parts of the game, it's when someone gets a perfect pass, a perfect set and a perfect kill and we all go into the middle and we go crazy.
"Everyone is screaming and you make eye contact with a random person on the court and it's just like the initial, wow you're amazing, I think it's a feeling you can't get anywhere else," she said.
Perry's favorite game was against the defending national champions: College of Southern Idaho.
"It was amazing and everyone was playing so well together, we swept them in three games and think everyone had the game of their life. It was the perfect ending to a great day, she said."
In regards to Head Coach Danielle Jensen, Sunny said, "Coach is the absolute best person ever, she reminds me of my mom in so many ways and it's nice to feel that again, because I miss my mom a lot. She doesn't just treat us as her team, she treats us like family."
Perry shows genuine love for everyone and especially her teammates. "This is the closest team that I've ever had, we were more like sisters than teammates and I have a special place in my heart for every girl on the team."
The best advice Sunny has been given was, "To love people even though it doesn't seem like they should or deserve to be loved and I think I've taken that and turned it into something totally my own.
"I'm able to love people because I know that they do deserve it because everyone needs to be loved and everyone should feel that for themselves."