VB standouts named to NJCAA D1 National Honors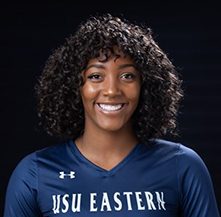 Richardson honored for acedemic success
USU Eastern's sophomore-outside-hitter Kiara Richardson was the first volleyball player in the history of Eastern to be named All American status. She was recruited from Henderson, Nev. It was during one of her last games when Eastern coaches were on a recruiting trip in Las Vegas, Nev. The coaches were there to watch one of her teammates play, but instead found interest in Kiara.
She wasn't planning on continuing volleyball after high school and wanted to stay in state for schooling. She thought maybe she would be a marine biologist, a "sharkologist" as she put it, until that all changed.
In high school, Richardson received the scholar athlete award twice, as a junior; she was named second team all-region, as a senior she was named first team all-region and was a three-time varsity letter winner before coming to USUE.
Not only is Richardson an amazing volleyball player, but played the cello seven years and was proudly part of the "Orchadorks."
Richardson is one of 11 children in her family with nine sisters and one brother. Family is important to her and something she values dearly, She said, "We take care of each other and have each other's backs no matter what."
It was a risk for her moving away from home, leaving her family and being here on her own, but because of her mom, Juanita Richardson, Kiara is here. "She's very independent, so I think that's what I look up to the most, is how independent she is and I believe that's why I'm in the position I'm at right now."
Richardson is working towards getting into the nursing program and has a goal of becoming a traveling registered nurse. She loves helping people and cares deeply for others. In five years she hopes to see herself in another country accomplishing the goals she has set for herself.
While attending USUE, Richardson has been making long lasting memories like, "Last year, it was the guys white out basketball game, we had the dots going on, we were all very into the game, they had all these fun prizes and it was just fun," she said.
For those who know Richardson, they may say she's a little bit of a wild child. She wishes to go skydiving, deep sea diving and ride an elephant sometime in her life. "Everything I do is pretty wild, I like to have fun."
She remembered last winter ice blocking with friends. While living in Nevada, Richardson didn't get to witness winter weather, "I didn't live in the snow until last year and don't think I like it," she laughed. "I hate being cold, but I do think it's pretty."
Richardson is deciding whether to continue playing volleyball or not, "Right now I feel like I'm at 78% body wise, do I really want to put myself through this for two more years." Richardson is also deciding where she will further her education after spring semester at USUE, but for now, she is happy to be here. "Where I'm at in life, I think that's my proudest moment because I am one of the first in my family to actually complete a whole year of college and to continue on."
She has made it here by a moral she stands by, "Sometimes you have to be a little selfish to be successful, and then go back to the people you really care about." That's how I manage it, I have to focus on myself to get where I want to be."
Richardson is also here today because she's "headstrong." She said, "I don't let a lot of things get to me." I hold my ground like an elephant." Which is also her favorite animal.
For her, the perfect day would be sleeping in until at least 10 a.m. "I am not a morning person, at all," she said. But she would want to keep busy the rest of the day and not let a minute go be bored.
Richardson loves the life she's lived so far, "I don't know if I have any regrets, I always go by life is too short for regrets, but everyone makes mistakes."
In regards to this year's volleyball season, Richardson said, "This year was absolutely phenomenal, I wish I could stay here." She remembered a moment at the beginning of the season, "We had a team retreat at the beginning of the year, we didn't really know each other, but started to get to know each other and that's when we started to bond."
Her favorite game of the season was the championship game, "I've never felt that much pressure before in my life, it made me feel honored. I didn't think the other team respected me because we were enemies, but know they still respected me after that game that was just one of my favorite games," said Richardson. "We had a team that competed at the top of the top."
In regards to Head Coach Danielle Jensen, Richardson said, "I absolutely love coach Jensen, if I could have one coach in the whole entire world it would be her, I feel like she has a lot of knowledge for the game and that's something I really love about her." "She has turned this program around and will keep
killing it. I'm excited to see where she ends every season."
From coach Jensen to Kiara Richardson to everyone else, "Just keep killin it."
Sunny Perry is originally from Rupert, Idaho, and moved to Springville, her senior year. During high school, she received all-region honors, earned first-team all-region honors and was named first-team all state while leading SHS to the state championship game.
"It's hard to move your senior year because you just want that year to be the best year of your life. I was nervous that I wouldn't be able to make friends and wouldn't have my picture-perfect senior year.
"When I moved to Springville, people accepted me and it turned out to be one of the best years of my life," Sunny said.
She plans to major in physical education and kinesiology. Her dream job is to be a weight trainer for high schoolers.
"I'm really into the body, strength and conditioning," Perry said. "I've had some really good coaches along the way training me in high school and I think it's a good place to be to change peoples lives, make them better and make them have good mentalities about their bodies."
Perry has been playing volleyball since she was little and always wanted to play college volleyball. When USUE was the first to offer what she wanted, she said, "I guess it looks like I'm going to Price."
In five years, Perry hopes to be married and starting a family. She looks up to her mom as a role model in life. "She's a really strong person and she's gone through a lot in her life, it makes me want to be like her because of how she's overcome a lot of struggles." I just want to be as strong as my mom."
Perry loves her family and cherishes the memories made with them. "One of the simple joys in life would be family because you never know how long they're going to be there and when they're gone, you're gonna miss them like crazy," she said.
While attending USUE, Perry has set goals for herself. "A goal that I have is to get my associate degree, but want to go to nationals. It was a major goal this year that we wanted to achieve and we barely didn't get it and so now it kinda fires you up and I wanna get it next year."
Volleyball has always been Perry's talent and helped her throughout her life. "Volleyball relieves stress a little bit for me, being able to play makes me forget everything else off the court."
For her, the best day would consist of three things: family, good food and volleyball.
She takes after her name and is always seen brightening the room with a smile, she said, "I'm a positive person and I like to see the good in things."
Along with her bright personality, she also has a bold side. "I think my greatest strength would have to be that I don't let things that people say get to me."
For Perry, coming to Price and being away from her family was hard, but that didn't stop her. "The biggest risk I've ever taken would probably be coming to a place I've never been before, being around a team I've never played with and being at a school full of people that I don't know, but I'm still thriving"
Regarding the volleyball season, she said, "my team is the absolute best, we're just hilarious together and do a lot of crazy things together; the hotels, bus rides, pre games, it's been a ride."
"My favorite moment is kind of collective, but it's like something that happens in every game and certain parts of the game, it's when someone gets a perfect pass, a perfect set and a perfect kill and we all go into the middle and we go crazy.
"Everyone is screaming and you make eye contact with a random person on the court and it's just like the initial, wow you're amazing, I think it's a feeling you can't get anywhere else," she said.
Perry's favorite game was against the defending national champions: College of Southern Idaho.
"It was amazing and everyone was playing so well together, we swept them in three games and think everyone had the game of their life. It was the perfect ending to a great day, she said."
In regards to Head Coach Danielle Jensen, Sunny said, "Coach is the absolute best person ever, she reminds me of my mom in so many ways and it's nice to feel that again, because I miss my mom a lot. She doesn't just treat us as her team, she treats us like family."
Perry shows genuine love for everyone and especially her teammates. "This is the closest team that I've ever had, we were more like sisters than teammates and I have a special place in my heart for every girl on the team."
The best advice Sunny has been given was, "To love people even though it doesn't seem like they should or deserve to be loved and I think I've taken that and turned it into something totally my own.
"I'm able to love people because I know that they do deserve it because everyone needs to be loved and everyone should feel that for themselves."