Your guide to graduation and commencement at Utah State University Eastern 2020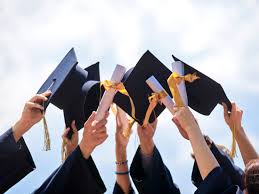 Spring semester always brings with it a slew of exciting things. Everything from a new set of classes to newly themed campus events, but by far the biggest event to come in spring semester is graduation.
Graduation is a big step for many students. For some, it will be the end of their college journey as they move into the workforce. For others, it means a transfer to a new university or technical school to further their educational opportunities.
Either way, it is a big step for every student that will put on a graduation cap in just a few short months. Getting ready for graduation is important and the time is coming soon. Here are some things to do in preparation for the big day.
Be aware of deadlines. Utah State University Eastern has a calendar online to check important dates and deadlines. Students who are preparing for graduation need to keep an eye on that to ensure they don't miss any important meetings or application cutoffs. Be aware of those dates and be ready to attend graduation meetings and events.
Talk to your advisors and make sure you are good to go. Students may have a system for tracking academic progress showing time to don the cap and gown, but academic advisors will have full academic breakdowns. They can look at your progress and the graduate rules of the university to make sure you aren't missing anything to hinder progress.
Get as much information as you can about degree options after you graduate. If you're moving into the workforce, start networking with potential employers. If you're moving to another institution or program, make sure that you meet all the requirements for that. Don't miss any application deadlines.
Commencement is Saturday, April 25, so apply and order your cap and gown. One thing students can do to ease nerves and prepare is watch past commencement ceremonies online. USU Eastern has 83 years of graduating classes to learn from.
Get ready for graduation. It's the reason every student walks onto a college campus anywhere in the world. Students have worked hard for years to get to this day. Enjoy it for all it is.