Christensen honored as Community Member of the Year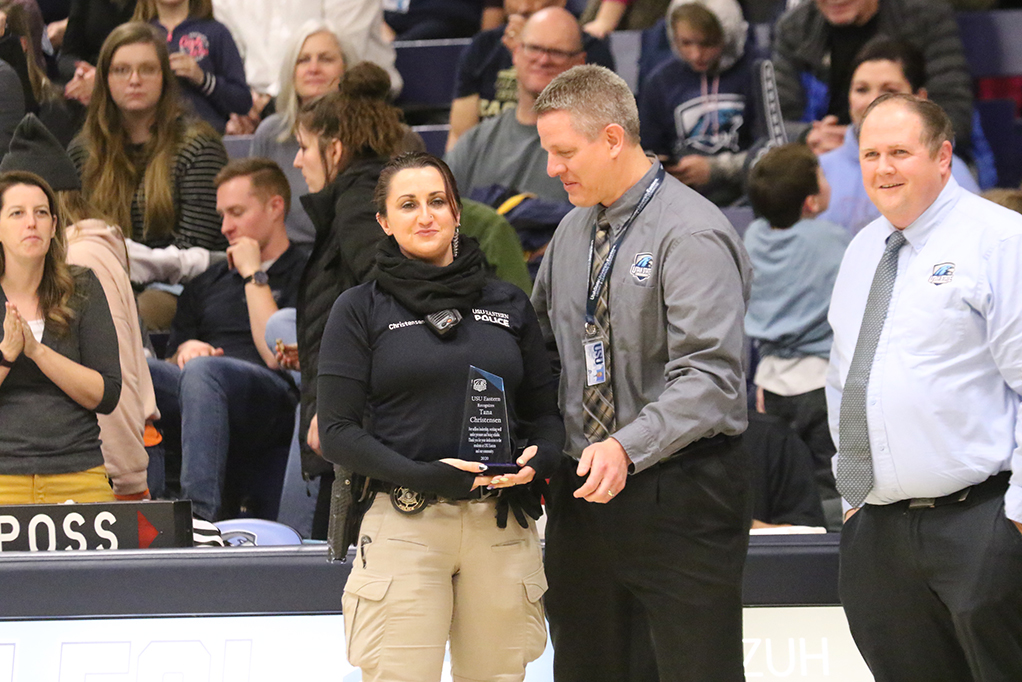 Do you remember when you were little and all of the adults would ask you what you wanted to be when you grew up? Most children say I want to be a Rockstar, an astronaut, firefighter, professional cook or a police officer. There is natural feeling inside each one of us to do good and be successful.
Tana Christensen is no exception to those feelings. On Jan. 23, 2020 during the halftime show of the Utah State University Eastern vs. College of Southern Idaho basketball game, Officer Christensen was awarded "Community Member of the Year" due to her "always [having] the safety and care of the students, faculty and staff foremost in her service as a campus police officer."
Officer Christensen has been a member of this community almost her whole life. She grew up 15 miles away from the Utah State University Eastern campus and carries an associate degree in criminal justice. Officer Christensen has been a faithful officer of the law for over 15 years having graduated from the police academy in 2004. She began working at USUE in 2016 and helped so many students, faculty and staff members with her selfless and courageous service.
After receiving her award, Christensen said, "I was definitely not expecting it. I'm sure the look on my face said it. It was a shocker, but a sweet surprise. It was even better to see my family and others I respect there.
"Their kind words made the award mean that much more to me. I was not expecting it at all because I did not think I was doing anything that was not expected of me. I guess I was lucky to have great mentors."
There was no doubt in the minds of those people on the "fan appreciation committee" that Christensen would be the perfect person for the award. Scott Madsen, member of the fan appreciation committee, said, "She has been an outstanding citizen on campus and has helped out many students."
USUE Student Body President, Bryce Gingery, has been extra thankful for Christensen's amazing service due to a challenge that he faced.
He said, "Officer Christensen is one to always care and go the extra mile. When I had my stroke, she was there from the time it started all the way to when I got discharged. She never left, even after her shift ended. Officer Christensen continually checked up on me days and even weeks after the stroke to make sure I was okay. When I was at my lowest and 800 miles from home with no family around, she made sure I had someone be with."
Christensen wanted to make sure to thank those she has been around for the last 15 years. She said, "I would just like to add that USU Eastern shines because of the faculty, staff and students. It is all our part to help keep our campus polished and to help when we can. Thank you all for making my career at USU Eastern Police Department bright place to be."