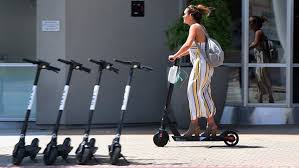 I believe that Price city should bring E-scooters to the community to provide a form of transportation to get around downtown Price and there can be something extra fun to do for people living here. Having E-Scooters can bring a profit to this economy, but it can also bring a way for people to get around easily.
There are pros and cons to this as well. One pro of having E-Scooters is people can get around in Price quickly. The scooter companies like Lime and Bird can make a lot of money on the project which could come back to the community. Another pro is that people like and support E-Scooters. E-Scooters can also provide jobs for people.
One of the cons is that E-Scooter companies want to compete so badly and win that they cut corners, making E-Scooters unreliable and possibly dangerous. This could lead to cities across America banning E-Scooters. E-Scooters aren't super reliable, they can have a low battery life. They might not be eco-friendly either because the people who collect the E-scooters drive their vehicle to do so.
E-Scooters are a cheap form of transportation unless your drive around on one for a long time. The prices differ a little. Lime has you pay $1 to start the scooter and 32 cents per minute. Bird is $1 to start and 15 cents per minute. Spin is $1 to start and 15 cents per minute.
Lime E-Scooters are in Draper, Farmington, Ogden, Salt Lake, Sandy and West Valley city. Bird is in Salt Lake and at the University of Utah. Spin is in Orem, Provo, Salt Lake, St. George and at Dixie State University.
Price city can easily bring one of these E-Scooter companies here or create its own E-Scooter company for its citizens. I believe we need an E-Scooter company because it will provide jobs, be a form of transportation for those who don't have a car and it could help the economy and make Price more urbanized.