Day in life of basketball star Ami Tia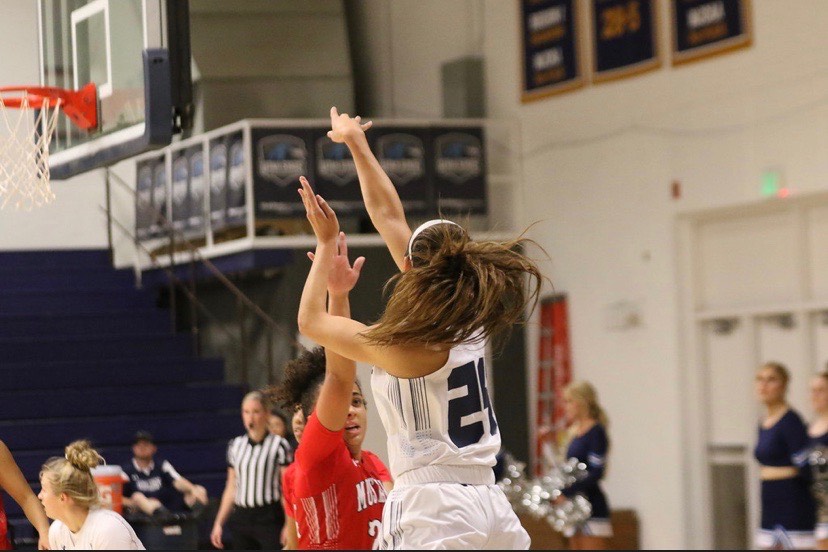 Ami Tia, a sophomore at Utah State University Eastern, has a big role as starting-point guard for the womens basketball team.
Tia wants "to give a big shout out to the coaches, they have done so much for not only me, but the team. They were the main reason I committed to USUE."
She would also like to thank the fans, "it truly makes a difference when we have a crowd."
Tia grew up in Nampa, Idaho and moved to Boise before her freshman year of high school. She went to Centennial High School where she played four years of varsity basketball, being a starter for three of those years and lettered for varsity basketball.
She decided to go for track and field her senior year of high school "for fun," Tia said, and ended up breaking three-school records, placing top three in four events at state. "I ended up loving it more than I thought," she said.
Coming from a family of six, Tia has "two loving parents," an older brother and two younger sisters. She's very close with all of them, "my family environment growing up was amazing, strong bonded and close. My family has definitely shaped me into who I am today, without them I wouldn't be here."
Tia grew up a member of the Church of Jesus Christ of Latter-day Saints. Her family has taught her many things but, "the main thing they taught me was to stay close to God," Tia said.
Living in Price, she is seven hours away from home and her family manages to be her "biggest supporters no matter the distance."
"My dad has been a role model because he went to college and played football, so I wanted to do the same, get a scholarship and play ball."
"My mom has shown me the most love anyone could ever give. I just want to give it back to her by making her proud."
"My brother has always been my protector growing up, he has really shaped me into who I am because he isn't afraid to be honest and help me become a better person everyday."
"My sisters are my role models because even though they may be younger than me, they show me attributes a good person should have, they have set a great example to me and kept me motivated to stay on the righteous path, I don't ever want to let them down."
Tia started playing basketball in middle school and continued to play because she fell in love with the game. "Basketball, growing up, was my greatest escape."
Basketball kept her motivated to go to college and earning a scholarship was the only thing on her mind. "I did it for myself, but mainly for my parents, it was a way of me giving back to them."
Leading the team, Tia enjoys being the starting point guard. "The meaning of a point guard is someone who has a good IQ level of the floor, to be able to see everything while handling the ball with or without pressure and executing plays." With basketball being a big part of her life, Tia is grateful for it and everything it has done for her. She used to be shy and quiet and basketball helped her with communication skills. Basketball has also brought great people into her life.
Basketball has also taught her many life lessons. "The way I look at a loss is a lesson learned." Following this semester, Tia plans to play on and go to a bigger school. Although she's still undecided, she is leaning towards going into the medical field. "One of my biggest life goals is to get the best job for me that I'll love to wake up in the morning and want to go and be there."
Tia would love to get married in an LDS temple and have a family. "The game of basketball can throw many curve balls at you, but it's how you handle it and respond to the situation." "That's just like life, you'll get things thrown at you that maybe you weren't expecting but, it's how you're going to handle it, and what you're going to make of it."