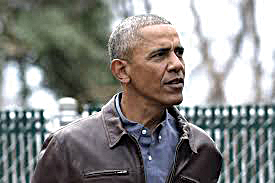 The 44 president of the United States, Barack Obama, was the first African-American president of the U.S. He previously served as a U.S. senator from Illinois.
After graduating from Columbia University, he enrolled in Harvard Law School, where he was the first black president of the Harvard Law Review. He became a civil rights attorney and an academic, teaching constitutional law at the University of Chicago Law School. He received national attention in 2004 with his primary win, his well-received Democratic National Convention keynote address, and his landslide November election to the Senate.
After being elected president he was named the 2009 Nobel Peace Prize laureate.
Regarded as a centrist New Democrat, Obama signed many landmark bills into law including the "Affordable Care Act" or "Obamacare", the Dodd–Frank Wall Street Reform and Consumer Protection Act, and the Don›t Ask, Don›t Tell Repeal Act of 2010. The American Recovery and Reinvestment Act of 2009 and Tax Relief, Unemployment Insurance Reauthorization and Job Creation Act of 2010 served as economic stimulus amidst the Great Recession.
He signed the Budget Control and the American Taxpayer Relief Acts. In foreign policy, he increased U.S. troop levels in Afghanistan, reduced nuclear weapons with the United States–Russia New START treaty and ended military involvement in the Iraq War. He ordered military involvement in Libya, contributing to the overthrow of Muammar Gaddafi. He also ordered the military operations resulting in the deaths of Osama bin Laden and suspected Yemeni Al-Qaeda operative Anwar al-Awlaki.
During his second term, he promoted inclusion for LGBT Americans, same-sex marriage was legalized nationwide, advocated for gun control in response to the Sandy Hook Elementary School shooting, indicating support for a ban on assault weapons and issued wide-ranging executive actions concerning global warming and immigration.
During his term in office, America's soft power and reputation abroad significantly improved.[2]
Obama's presidency is regarded favorably, and evaluations of his presidency among historians, political scientists and the general public place him among the upper tier of American presidents. Obama left office and retired in January 2017 and currently resides in Washington, D.C.[3][4] A December 2019 Gallup poll found that Obama was the most admired man in America for a record 12th consecutive year.