Sliding into preseason SB holds 8-3 record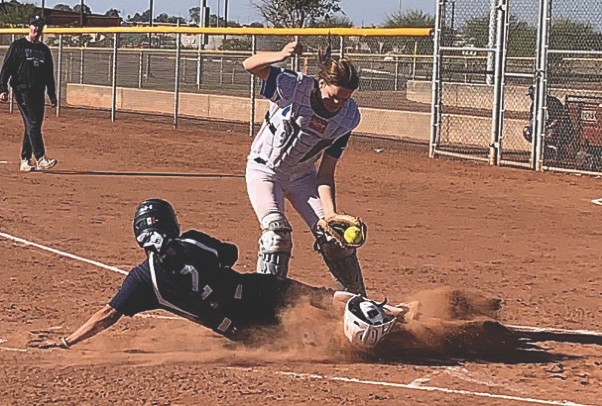 Utah State University Eastern womens softball team came out strong as they head into the preseason 8-3. They opened at the CSN Kickoff Classic Jan. 31 – Feb. 1st in Henderson, Nev. The Eagles held a 4-1 record with a four-game-winning streak.
They fell to Jones College and added wins to Central Arizona College, Northwest Kansas Technical College, Yavapai College and Eastern Arizona College.
Jones def. Eagles 17-0
"Looking back at the first game against Jones, I kind of chuckled. It was our first game of the season and there were definitely some built up nerves you could see. We were very anxious in the box and it seemed like we forgot how to play the game of softball. After that loss I called on the top part of my lineup to step it up and set the tone. They did and the rest of the team followed," said coach Shelby Shurtliff.
Eagles def. Central Az. 13-12
"We scored on Central the first inning which was huge and we strung our hits together very well."
"That was a big first step we made to get our season kicked off and the girls didn't look back. Everyone did their jobs, on the offensive, defensive and pitching side of things. We had two great wins against very respected programs on Saturday. We held on to one win and we came back in the bottom of the seventh in another. The girls had each others backs and did their jobs. The energy was unmatched," said Shurtliff.
Eagles def. NW Kansas 17-2
Eagles def. Yavapai 7-6
Eagles def. Arizona 7-6
"The way we played overall for the weekend together as a unit is scary, we are truly unstoppable. All our fate is in our hands and I think we proved that this weekend, not only to ourselves but to all the other teams that overlooked us as well. I'm excited to see what this season has in store for us. As a sophomore on the team, I can say we have so much potential on the team this year. After our terrible loss against Jones college, I think as a whole we stepped up our game and it showed that we are hungry. We trusted our bats and all the extra work we have been putting in and more. Most importantly, we trusted each other and played for one another and not just ourselves," said sophomore-utility player Alicia Cruz.
The weekend of Feb. 6 – 8, the Eagles represented in the Western Shootout in Yuma Ari. They went 4-2, with both losses against Glendale Community College. They received wins over Central Arizona College, Eastern Arizona College, Chandler-Gilbert Community College and Gateway Community College.
"In Yuma, Ari., I was once again very happy with our two big wins against Central Arizona and Eastern. We prepared well and our pitchers did a great job with keeping them off balance. Our games against Glendale were very disappointing. We got content with a lead in our first game and had one bad inning of errors that killed us. The second game nothing was going in our favor but we found a way to come back. And both games we were where we wanted to be but ultimately we were out played. Glendale did a good job keeping us off balance at the plate and they did a good job finding holes offensively. Although we didn't play our best I think those losses are beneficial to our upcoming success because we get to learn when we lose and it's exciting knowing we still have things to work on," said Shurtliff.
Eagles def. Central Arizona 10-1
Glendale def. Eagles 11-9
Eagles def. Eastern Arizona 6-2
Eagles def. Chandler-Gilbert 5-2
Eagles def. Gateway CC 12-2
Glendale def. Eagles 8-5
"Our weekend in Arizona was one for the books. We proved to ourselves and others that we are here to compete. Defensively, I know what every girl is capable of and have total confidence in all of them that they will get the job done. Offensively, I am so excited for this year. We have a solid lineup 1-9, all of the girls are going to put the ball in play to get the runner across home plate. I've had a blast the past two weekends, but I am so excited to see how we do in conference this year," said sophomore-pitcher Nyah Deryke.
"I am very happy with how the team is doing so far. We have the best start in program history and have the most wins in our conference right now. All 18 of the girls are playing a part in our wins and buying into their roles and that's what I think is the backbone of our success right now. Everyone loves each other and plays for the person beside them and it's something very special to watch," said Shurtliff.
The Eagles begin conference play Feb. 28 against Snow College. Ephraim, Utah.