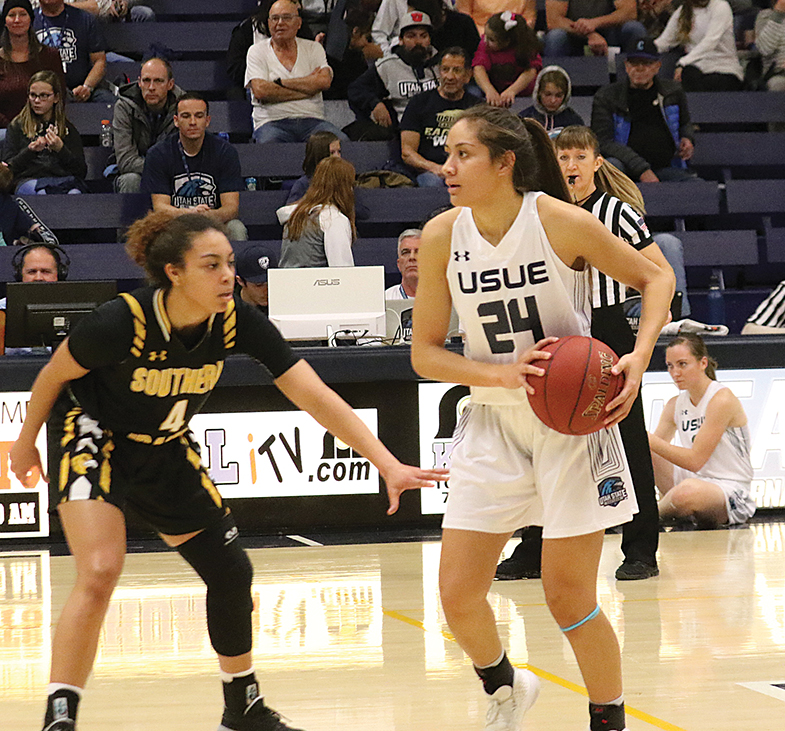 Utah State University Eastern women's basketball team hit the road this last week as they traveled Salt Lake Community College Bruin's. Eastern continued their dolor against the Bruins, losing their 12 match on the road in Taylorsville. Eastern battled till the end but took the fall with a close 60-57 match. In the end, the match could have gone either way with a few different bounces of the basketball.
The Eagles struggled to find their composure in the first quarter as the Bruins took the lead but shortly into the second quarter the Eagles gained composure and led the half 33-32 with a significant comeback. Both the Eagles and the Bruins found a rarity of three pointers in comparison to average numbers put up by both teams. Eastern shot 27 percent at the three compared to the Bruins 26 percent.
Eastern showed their strength in winning turnovers with 8 to 18 over the Bruins. Eastern shot an unusual 31 percent from the field compared to their typical percent from the field. Leading the Eagles and Bruins in points, Margrett Otuafi scored 17 points. Following Otuafi, Amiperia Tia scored nine points and Kinlee Toomer gave eight points with four assists and one steal.
Fighting till the last buzzer, Eastern tried to push to take the win but evidently fell short by three after the Bruins held their lead, making the game 60-57 and a tough loss for the Eagles.
With a well battled match, Head Coach Chelsey Warburton stated "It was a hard-fought game but we had a slow first and third quarter and missed some key free throws. We are continually impressed by the fight and never give up spirit the team has but we need to push for four solid quarters."
Eastern is still fighting for their season moving to 21-4 and 6-2 in conference. Eastern will be back on the road to the home of the Snow College Badgers on Thursday February 13 .