Cheer wins first place at nationals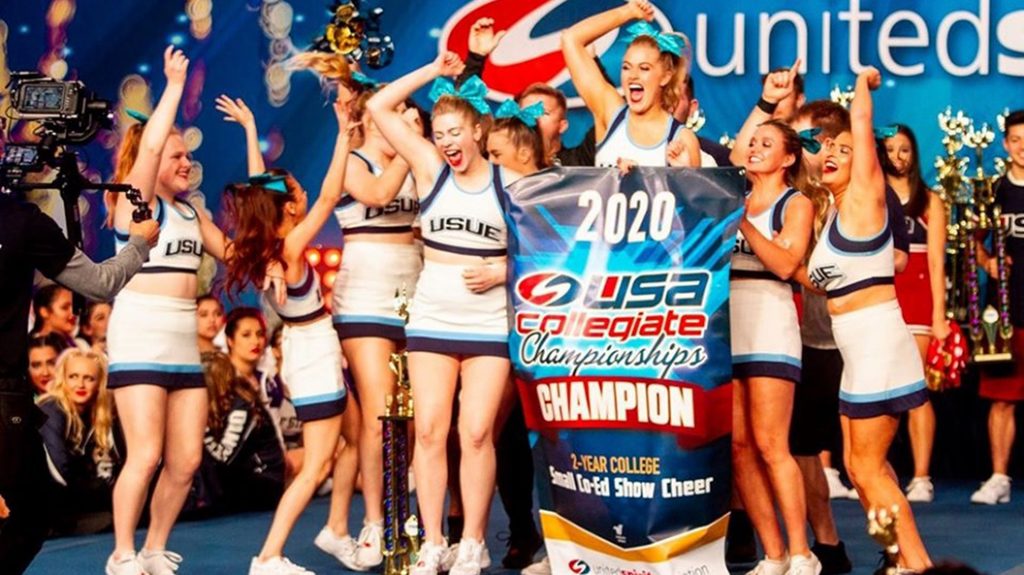 USU Eastern's spirit squad traveled to Anaheim, Calif., last weekend to compete in the United Spirit Association's College Classic and brought home some gold.
The cheer team came away from the competition as national champions in the two-year college,  co-ed Show Cheer Competition, edging out Northern Oklahoma College to bring home top honors.  In the competition, execution points are gained by jump combinations, pyramids, stunts and tumbling.  Showmanship and school representation are considered for final score.
After they won, USU Eastern cheer coach, Kelly Bradley said, "I am so overwhelmed right now. These athletes definitely put in blood, sweat and tears. They practice every day with pure heart. Watching those faces light up when their name was announced as champions was priceless.
"I couldn't be more proud of my team in how they represented our university. Thank you so much for the outpouring of support that everyone has given this team, we are on cloud nine."
The USU Eastern dance team again earned national recognition earning second place in the Hip Hop competition and third place in Jazz.
Spirit squad director and dance coach, Brandi Johansen, said, "If you didn't get a chance to see these ladies perform, then let me tell you what you missed. You missed heart, passion, soul and a whole lot of love out on the dance floor. They were stunning.
"I can't begin to explain how hard these girls have worked, even down to the last minute before they took the floor. I am so proud of what they accomplished and am continually in awe of them."
Emmett the Eagle competed in the mascot division. His performance consisted of a skit under two minutes that focuses on entertaining and engaging with the audience. This year, Emmett's skit focused on his presidential campaign. It included him campaigning, his specific policies and plenty of dancing for the audience to enjoy, he said.
While he did not place, Emmett was excited to compete and become an even better mascot for the Eagles.
If you haven't had a chance to see these performances, you still have a chance. The cheer team and Emmett will perform their routines at the Cheer Spring Showcase. Dance will compete at College Classic on April 3-4 in Las Vegas, as well as perform at their dance concert on March 19-21.