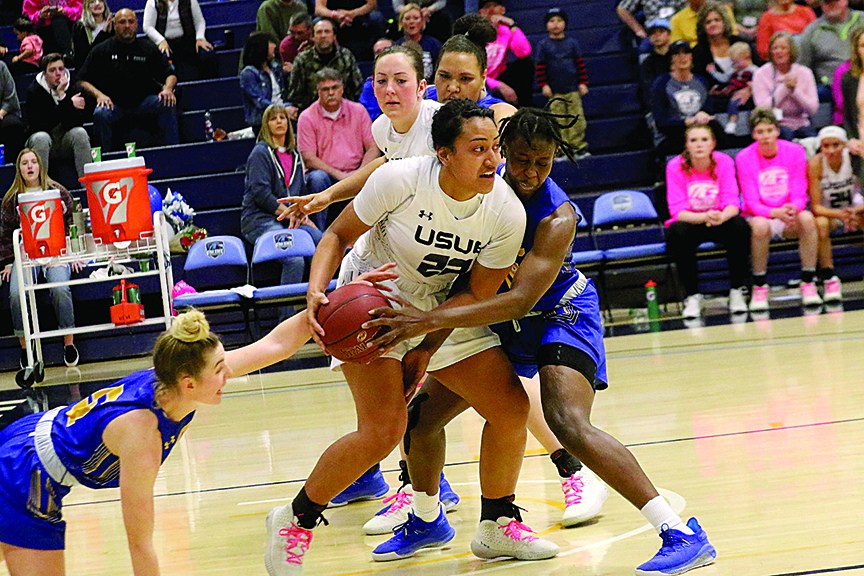 Eagles defeat Salt Lake CC 70-64 in home OT earning SWAC co-champs status
Utah State University Eastern womens basketball team battled until the last minute of the game to make history in many ways during their final home game.
Taking the win over Salt Lake Community College Bruins, Eastern became co-regular season champions with the Bruins with the 70-64 win. Both teams finished with a record of 9-3 in conference. This made Eastern's highest finish in the regular conference play in program history.
Winning in overtime, Eastern received its 24th victory of the season. The Eagles passed the previous record of 23 wins in a season set by the 2003-2004 Eagles, who were led by current women's head coach Chelsey Warburton and were coached by recent Hall of Fame inductee and current assistant coach of the Eagles, Dave Paur. Warburton and her sister Cassie, led the 03-04 team in points both averaging 13 points per game. Chelsey also led the team in steals and 3-points from deep.
The entire team put up tremendous effort in the win over the Bruins. With the night starting off with sophomore night featuring them in the starting lineup.
Sophomore night honored seven sophomores during the game.
Harley Carlisle cleaned up for Eastern with 12 rebounds, seven of them offensive rebounds. Emmery Wagstaff put up 10 points and seven rebounds. Morgan Toluono earned a career high of 16 points, seven rebounds and a perfect 7-7 from the free-throw line, four of which came during the critical minutes of overtime. Margarett Otaufai scored 16 points and seven rebounds. Freshman Kacelyn Toomer put up 11 points, five rebounds, three assists and a dagger 3-pointer which gave Eastern their first lead since the first quarter during the overtime period.
Eastern came back from 13-points deep in the beginning of the fourth quarter, forcing the match into overtime.
With determination, Eastern pushed to win the match shooting 7-8 from the line in overtime, making them co-champions of the conference season.
"Tonight was a wonderful win for our program and for our sophomores to end their last regular season on. This team is such a talented group and they have been able to accomplish so much. We are looking forward to the tournament and the excitement it brings," Chelsey Warburton said post victory.
Eastern is set to play the College of Southern Idaho in the first round of the Scenic West Athletic Conference tournament which starts on Friday, Feb. 28, in Twin Falls, Idaho. Tip off time is 3:30 p.m. and is streamed live.