Bill Evans, USUE's new head basketball coach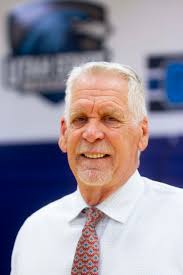 "This is a competitive world and if you're not a competitive person, there's a good chance you won't be successful." That is the type of person Bill Evans is. Who is Bill Evans? He is the Utah State University Eastern new head basketball coach who joined the athletic department during the summer.
Coach Evans a veteran coach who enjoys competition and has coached for over 30 years, including Southern Utah University and Idaho State University. If you coach for that long you must be doing something right. On and off the court, Evans establishes relationships with his players which is particularly important to him. "I think relationships are really important, and so I work really hard to try and develop relationships," Evans said.
Coach Evans is an incredibly competitive person and coach. With this he looks to help young men learn and be more successful in life and in the game of basketball. "I want them to graduate from this college or do well enough so that they can move on to the next level," Evans said.
"I wanna win games and I win with the type of guys that I wanna coach", Evans said. It might be difficult, but Evans believes this team can win. With the new faces as well as the older ones, he is looking forward to work with these players. "I'm excited for the whole team, we just have to continue to teach and work." The players are learning from him and he is learning from them.
With learning through trial and error through his coaching career, Evans is capable to coach this team. "There is more than one way to try and play the game of basketball," Evans said about his style of coaching, trying to coach the game in different ways. Like he said you can win in multiple different ways. Evans sees himself more as a defensive minded coach, but with that being said, "You have to be able to score baskets as well."
With this being said, the upcoming basketball season should be a joy to watch as coach Evans and his team go play with intensity, the right character, and integrity. It is going to be weird with the whole COVID pandemic going on, but things will get better.