40 days & 40 nights = 3D-Printing Class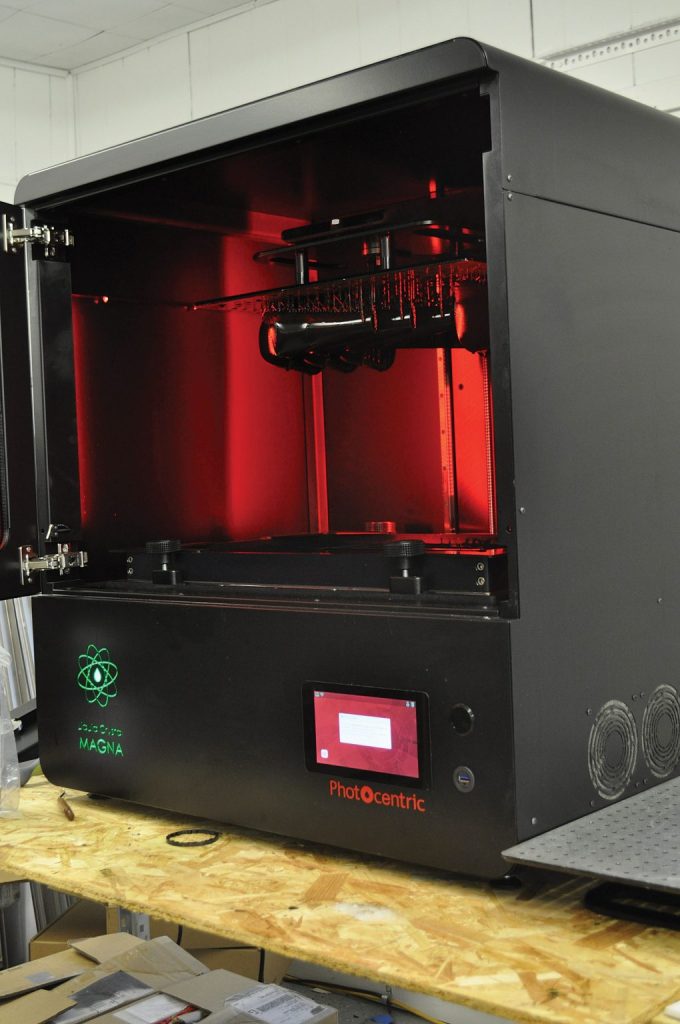 This semester, the Additive Manufacturing Certification course at Utah State University Eastern was created and instruction began in a record-breaking 40 days. Through the collaborative efforts of Gary Straquadine, Zak Konakis, Spencer Loveless of Dustless Technologies and the Utah Governor's Office of Economic Development, the project hit the ground running in the first week of August and class began on September 15. The class is held at the Dustless Technologies manufacturing site and was created to further generate economic development of Carbon and Emery counties.
The Utah Governor's Office of Economic Development provides resources, programs and funding to support the economic development in rural areas of Utah. The GOED specifically looks for opportunities to invest in the progress of software and information technology. Earlier this year, the GOED sent out an email about using funds from the Coronavirus Aid, Relief, and Economic Security Act to support economic development. Spencer Loveless of Dustless Technologies replied with a proposal to start a certification program for additive manufacturing. Scott Romney of the GOED then emailed Dr. Gary Straquadine, Associate Vice President of Career and Technical Education at USUE, for a proposal. Because Straquadine always has well-developed ideas ready for action, he wrote the proposal in two days. The proposal was quickly accepted by the GOED and Zak Konakis, Coordinator for the Career and Technical Education program at USUE, was contacted the following Monday to get a team together to get the course going.
This all happened in the first week of August. The curriculum was planned, equipment was gathered and class started on September 15. From the planning phase to the beginning of instruction, it typically takes two to three years to begin a new certification program. "To begin a course in 40 days is unheard of," said Konakis.
Manufacturing generally takes place off-shore and involves injection-molding. Injection molding is a manufacturing process in which molten material is injected into molds. The process is costly, time consuming and the molds have size limitations. Additive Manufacturing, commonly called 3D printing, is the process of manufacturing an object inside a printer one layer at a time with various materials. Additive manufacturing is advantageous because it allows the costly process of injection molding to be skipped, there are no added parts to buy and long wait times are eliminated. With advancing technology, printers are now fast enough and materials are cost-effective and industrial enough to allow the manufacturing process to take place on-site, benefiting businesses and local economies.
The Additive Manufacturing Certification course now offered at USUE is a one-semester, 12 credit hour program. Students who successfully complete the course are awarded a Utah State University institutional certificate. The course teaches students about 3D printing machines and how to source them, the materials used and how to make the technology equitable for business owners.
After competing the program, students can enter the Automotive Technology Associate degree program with 12 credit hours already completed. The program serves as a jumping off point into the world of manufacturing technology and students can make decisions to further learn about automation, robotics and working with technology.
The class meets twice weekly at the Dustless Technologies manufacturing site. Students enter the program and immediately begin working on the production line. The students are learning from real-world experience, not just classroom knowledge.
The curriculum is designed through a collaborative effort of Spencer Loveless, Jason Marshall and Gary Straquadine. Loveless and Marshall teach the course together.
Loveless is passionate about the advancing technology and potential of additive manufacturing. It is easy to get carried away in the endless possibilities, however, Loveless is focused on taking a practical look at the steps of manufacturing. He demonstrates to the students what they need to understand in this new world of technology.
The course has 30 seats available. Initially, 38 students were interested in taking the course. Konakis receives three to four emails weekly from students who are interested in signing up for future courses. The interest generated by this program display a need for this training. Dustless Technologies and USUE are working to fulfill that need.
USUE has plans to further develop technologies, offer classes on automation, robotics, and create economic opportunities for Carbon and Emery counties.
Dustless Technologies is interested in further developing additive manufacturing technologies. They plan to continue to work with USUE to bring advanced manufacturing technology to rural Utah. "Advanced manufacturing with Robotics is where we want to take it," Loveless said.