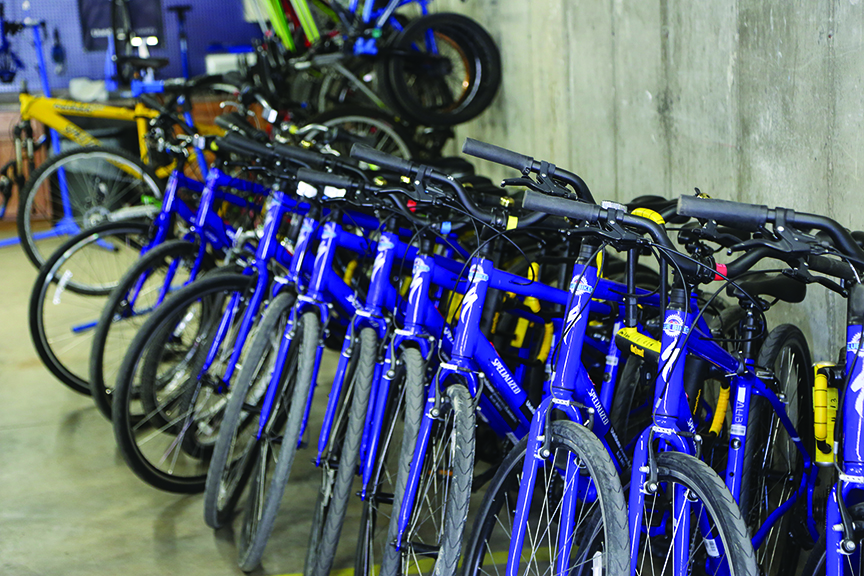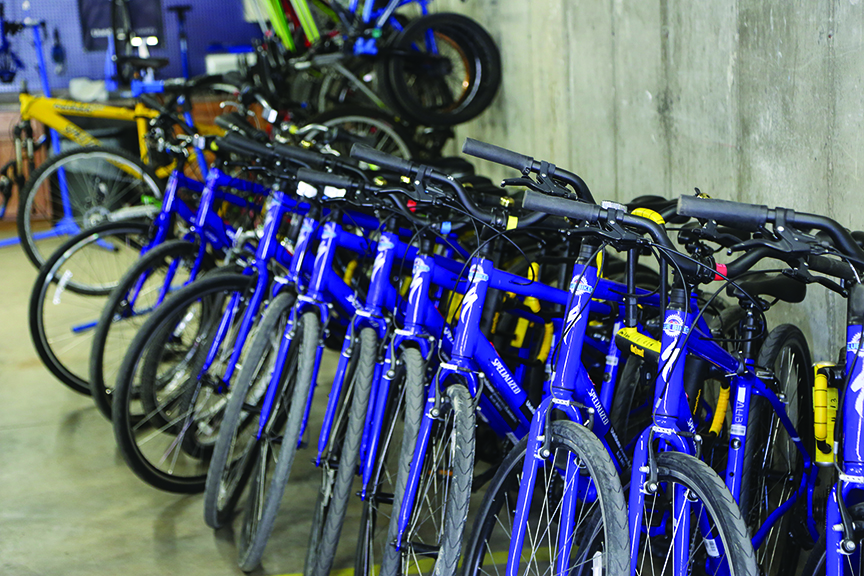 Tired of studying for midterm exams and need a break? Check out a mountain bike from the Blue Bikes shop and explore the many mountain biking trails in the surrounding area.
Utah State University Eastern Blue Bikes was established in 2019 to provide bicycles for transportation and recreational use for USUE students.
Aggie Blue Bikes on the Logan campus was established in 2005 in an attempt to help improve the air quality in Cash Valley. Beginning with only nine bicycles, the program has grown into a current fleet of over 350 bicycles for students to use for transportation and recreation. Additionally, the Aggie Blue Bikes program offers classes for the community and stations for students to repair their own bicycles.
Kirt Jensen, a graduate student of USUE's Public Health Education and Promotion program, wanted to bring the Blue Bikes program to the USU Eastern campus. He saw the program as a way to assist the student population with transportation and recreational needs. The bicycles could help students improve their physical and mental health.
Dr. Gary Straquadine, Associate Vice President of Career and Technical Education at USUE, is always looking for ways to support the growth and community connection on campus. Both Jensen and Straquadine called the Logan campus to find out how to bring the Blue Bikes program to the Eastern campus.
In the fall of 2018, Margaret McCarthy from the Logan campuswas scheduled to make a presentation about the Aggie Blue Bikes at USUE. Price city Mayor Michael Kourianos heard about the upcoming presentation and invited local business owners to attend.
Emery Telcom, Market Express, Peczuh Printing and Dr. Shane Gagon donated a combined total of $7,000 to start USU Eastern Blue Bikes. EUSA donated $1,500 for specialized bicycle tools. A space under the Police Building just north of the Jennifer Leavitt Student Center on campus was designated as the new shop. The project to begin USU Eastern Blue Bikes was started.
In February 2019, USU Eastern Blue Bikes held a ribbon cutting ceremony and opened the shop to the students. A fleet of 20 bicycles was available for students to check out free of charge. Most of the bicycles were bought with the donated money and a few bicycles were donated by the Southeastern Utah Health Department.
Later that year, a Boy Scout camp was retiring their mountain bike program due to excess scout injury rates, so they were able to acquire them for Blue Bikes. Greg Dart, The Associate Vice President of USU Eastern, made it possible for the USU Eastern Blue Bikes to purchase these lightly used mountain bikes. Eighteen additional mountain bikes were added to the fleet.
Eastern Blue Bikes currently has a fleet of 46 bicycles: 13 cruisers, 30 mountain bikes and 3 BMX bikes. The fleet is available for students to check out for free. Students can also bring in their personal bikes and make their own repairs in the shop with the tools provided and advice from staff.
Due to the success of Eastern Blue Bikes, the USU Blanding campus started their own Blue Bikes shop.
The Price and Helper Police Departments donated 30 bicycles to Eastern Blue Bikes. The bicycles went unclaimed from the evidence locker for over a year. The Blue Bikes shop is currently sorting through these donated bicycles, deciding which will be added to the existing fleet, which will be used for parts and which will be refurbished and donated to the Sub for Santa program. Volunteers are greatly needed to help refurbish these bicycles for Sub for Santa in November. Please contact Jensen at 435-650-5227 for more information.
Plans to evolve the Eastern Blue Bikes shop into a campus recreation program are currently underway. Once Campus Recreation is established, students will be able to check out rafts, paddles, life vests, and other equipment for recreational use.
Price features many mountain biking trails to enjoy. Students can ride the Butch Cassidy Trail, trails within the Wood Hill trail system, explore the many additional trails in Carbon County or take a day trip to the San Rafael Swell.
Students with an active ID card can check out bicycles from the Blue Bikes Shop for up to a month. Rental contracts for short-term and one-month checkouts can be found at eastern.usu.edu/bluebikes/index. Due to COVID-19 restrictions, appointments to visit the shop must be made. Text Jensen at 435-650-5227.