Diverse marketing strategy for fall semester enrollment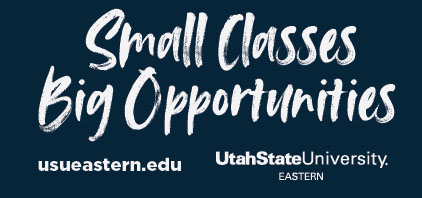 Students driving around Utah county this summer might have noticed some new Utah State University Eastern signage in the area.
USU Eastern partnered with Blip billboards to promote the campus to new students. The billboards were placed between July and August to encourage incoming freshmen to attend the university.
Why only two months? According to USU marketing manager Loren Miller, the budget plays a big factor in recruitment. "They were up for two months because we wanted to be diverse in our marketing strategy for the fall. It can be very expensive to advertise on digital billboards, so if we spend a lot of money on those billboards, we might miss out on other forms of advertising or marketing."
The artwork displayed on the billboards was designed by the University Marketing and Design team. "Art Director Ashlee Karen and her team of designers make all the marketing materials for USU Eastern such as viewbooks, ad artwork, brochures, posters, etc. The messaging on the billboard was a collaborative effort by the UMAC copywriter and myself."
The billboard designs were strategically placed in order to gain the most exposure from prospective students. "We placed digital billboard advertisements at two locations in Spanish Fork and Springville along I-15." What makes those locations special? According to Miller, those places are in a population boom. "We chose those spots because they are in an area of southern Utah County that is growing in numbers and is priority in the recruiting strategy for USU Eastern." There are five high schools from Springville towards Juab County. There are several opportunities for potential students or their families to see those billboards.
The billboards were seen an astounding 137,701 impressions during the period they were up. The Spanish Fork location alone had 80,147 estimated impressions.
With numbers like that, USU Eastern is a name that will be much more recognizable in the area. Recruitment tactics are always changing, but this is a step in a bold new direction for the university and the people it holds.