Iskandrani, new assistant volleyball coach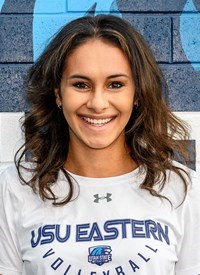 "This season should be one for the books," said Nesreen Iskandrani, a new assistant volleyball coach for USU Eastern. She is excited to be at Eastern this year to help the players be successful.
Coach Iskandrani played at William Penn University, majored in history and political science. She was a four-time-letter winner on the court, two-time-team captain and four-time- student athlete. She also coached the Albia Aces Club.
Besides coaching, she is also a student which should make things hard, but not for her. "I enjoy having a busy schedule," she said.
Choosing USUE was an easy choice for Iskandrani. The scenery was one of the reasons, but that's not the only reason she choose USUE. "The SWAC is one of the most competitive conferences in the nation… but all in all, I wanted to be a part of the team culture that coach [Danielle] Jensen built at Eastern." The culture of this team was probably the biggest choice in choosing USUE.
"The coaches at Eastern are extremely supportive to one another and seems like the dynamic between one another is super strong as well." Iskandrani enjoys working with the other coaches and is excited to contribute her knowledge and learn from them.
It is not just the coaches she is excited to be working with, but it is the players. "I have enjoyed coaching this group of young ladies. The ladies all have their different attributes and personalities that really make our team unique." Having all these different kinds of players will be fun to watch.
"I feel very confident in this 2020-2021 team," Iskandrani said. This team has the potential to be successful and the coaches noticed that throughout the first couple of months of practice. They already played a couple of scrimmages .
The team handled COVID-19 well. "The girls have been super willing to do just about anything to play on the court this fall. They have rolled with the punches with all the changes happening on a constant basis," Iskandrani said. It has been a tough thing to go through for everyone, but it is tough to be safe and play sports. The team is going to do whatever it can to make it over this step.
The season is planned to start the end of January. They have 25-scheduled games, COVID permitting, which includes preseason and conference.