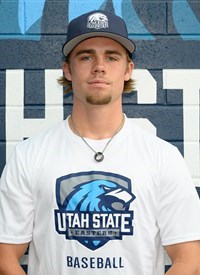 There aren't a lot of players on the USU Eastern baseball team from out of state; actually, there are only four.
Carter Steenbackers, 21, came to USU Eastern from Mansfield, Texas, and played baseball for as long as he can remember.
He chose to play at USU Eastern because it is close to bigger schools he hopes to transfer to after a year or two to at Eastern.
Some of his dream colleges to play at include Texas A&M, Dixie State University and Arkansas.
Baseball runs deep in his family. His father played baseball for Ricks College (BYU Idaho) in Rexburg, Idaho, when it still had intercollegiate athletic teams. At the time, Ricks played CEU (USUE) several times. He doesn't remember any of the scores of the games Ricks dropped
all athletic programs in 2000.
Steenbackers is an outfielder and bats left handed. One of his goals for this year's team is to have a positive impact on the team.
Another goal academically is to get his associate degree this year and start working on a bachelor's program.
Some of his hobbies, besides baseball, are fishing, golfing, riding in the mountains and spending time with friends. He loves Mexican food.
Steenbacker served a two-year LDS church mission in Oaxaca, Mexico. He has three younger brothers and a younger sister.
His younger brother Easton, plans on coming to USUE next year to play baseball with him. His sister is attending BYU Idaho this year.