USUE basketball looks to make a comeback in Spring 2021 season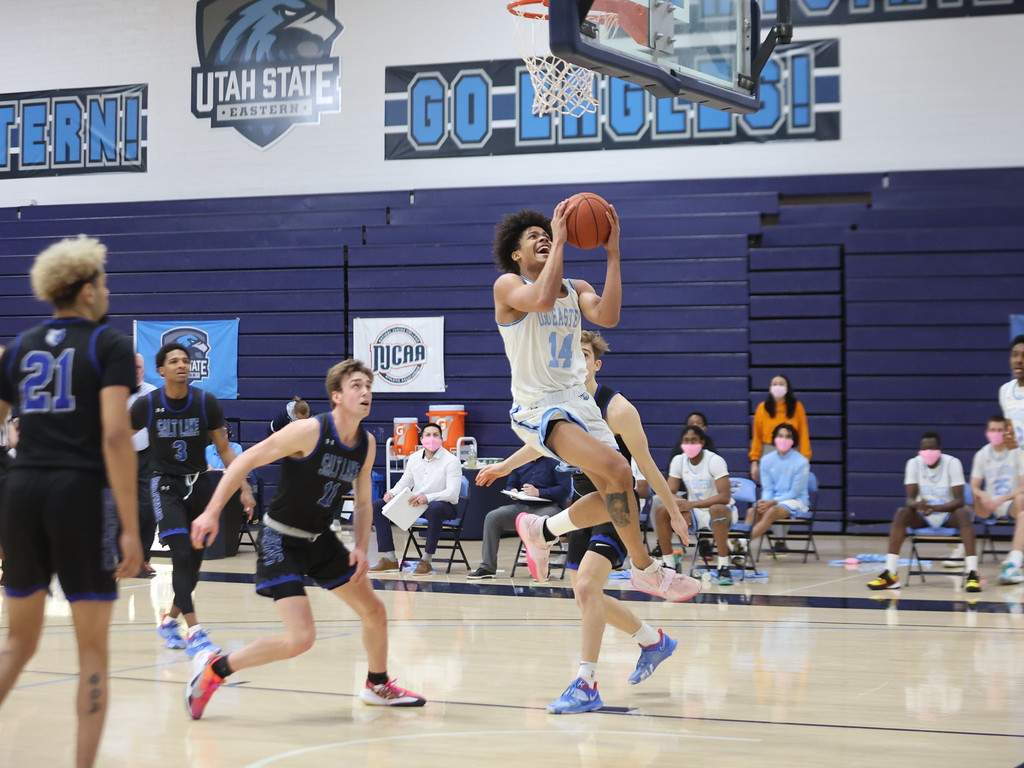 Basketball season is in full swing. The USUE Eagles' men and womens basketball teams split their last four conference games. Playing Colorado Northwestern Community College, Snow, Salt Lake Community College and College of Southern Idaho, every game brought new challenges and hope to overcome the challenges and work to a good postseason slot.
Each team split its four games these last two weeks, both going 2-2.
CNCC
The teams started by traveling to Colorado, where they both defeated CNCC. Guard Kajia Glasker played well for the women, scoring 17 points and grabbing seven rebounds. Glaser's points were helped by guard Kacelyn Toomer's pass distribution as she picked up six assists. Both helped with the victory over the Spartans 88-72.
The men also picked up a win against the Spartans. The leading scorers were guard Jesse White with 18 points and Donaval Avila with 18 points, five rebounds and four assists. These two players helped the Eagles win this important road game.
SLCC
Unfortunately for the women, their next game at home against the SLCC Bruins didn't go as well. They couldn't overcome the shooting of the Bruins, who shot 49% from the field. The Eagles had a difficult time scoring with their team-highs from the Castle Country twins Kacelyn and Kinlee Toomer, each finishing with just six points.
The men pulled off a close win against the Bruins 66-64. The game came down to the wire as both teams were tied at 66 with 15 seconds left. Then forward and MVP of the game, Dontrell Hewlett, hit a running floater with about three seconds left to put the Eagles up two. The Eagles defense then held on after a desperation heave from the Bruins to pull off the upset.
Dontrell's game winner came along with 18 points and five rebounds. Hewlett wasn't alone, guard Jessie White also played well, scoring 15 points while Nathaniel Mims was a monster on the rebounds finishing the game with 11.
Snow
Both teams next traveled to Ephraim to take on bitter rival Snow College. The women lost a tough one 61-39. The team couldn't seem to get the lid off that basket, shooting a low 25% from the field. Kinlee Toomer led the team with nine points, eight rebounds and two assists in her 25 minutes of play.
The men also suffered a heartbreaking loss in Ephraim after leading for the first 30 minutes of the game until a hot stretch by Snow guard Ross Reeves. He put the Badgers ahead with five minutes left. The Badgers would never look back and went on to win 86-79. Dontrell would have an excellent game, finishing with 27 points, six rebounds and five assists.
CSI
The Eagles finished off their week in Idaho against CSI. The women bounced back after two straight losses with a much-needed win. They won 69-59, and Coach Chelsey Warburton couldn't be happier with the team's energy.
In a press release posted on USUE's athletic website, Warburton stated, "The team played with an edge, and it was great to see. Every possession was full of effort, energy, and excitement from the entire team, and that was key in the win tonight."
That energy was definitely on display by Kinlee Toomer, who earned herself a double-double in the victory—finishing the game with 13 points and 12 rebounds. The men had a tough battle against 11th ranked CSI.
The Eagles' offense started slow and never fully recovered from it. The Eagles ended up losing 79-70. Dontrell Hewlett's stretch of solid play continued with another solid performance, finishing with 22 points and three rebounds.
The last two weeks have been a mixed bag for both teams, each going 2-2 in their previous four games. The men are now 9-6, but they have lost six of their last eight and look to bounce back against College of Southern Nevada. The women are now 10-5 and look to make it two straight wins against CSN.