First time ever for Eastern volleyball team: Women head to nationals this week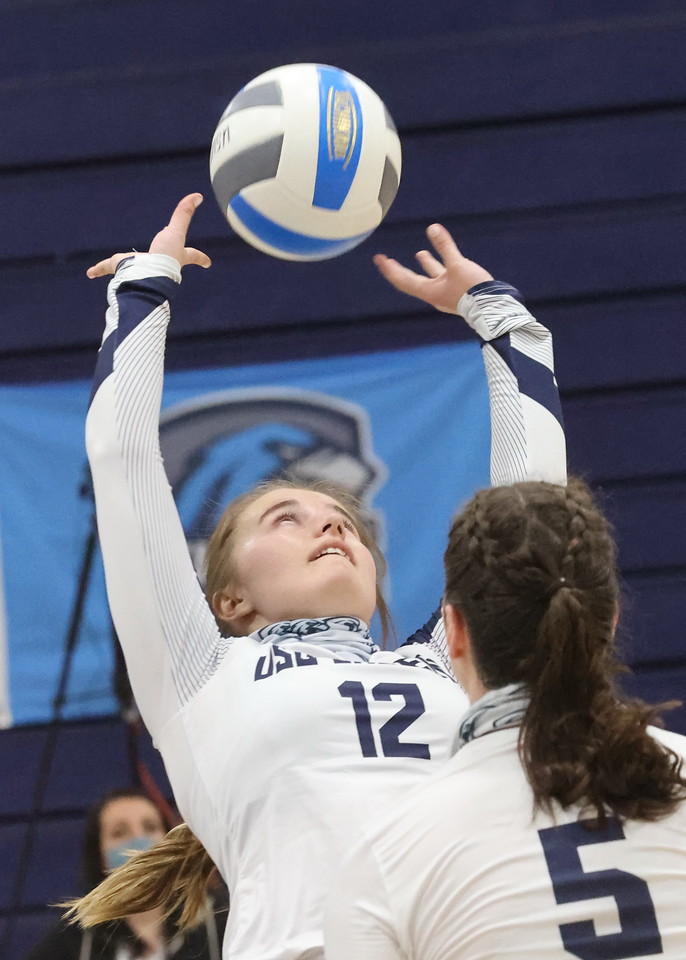 The Eagles wrapped up conference play this weekend ranked fourth in the nation and second in the conference. They defeated Salt Lake Community College 3-2 in the semis and lost to Snow 3-0 in the finals in Richfield on April 3. Two days after the devastating defeat, the team received an at-large bid and are headed 1,273 miles east to West Plains, Missouri, to compete in the national tournament for the first time ever this week.
This is a big deal since this is the first time ever the Eastern volleyball team competed in nationals, especially being in the hardest conference in the nation, with three of the six teams in the SWAC conference nationally ranked. The last time any USUE team has made it this far was mens basketball in 2010.
The tournament, made up of 14-automatic bids and two at-large bids. USU Eastern will be the #4 seed in the 16-team tournament, after ending its season ranked #4 with a 22-4 record. The Eagles lost in the final match of the Region 18 volleyball tournament to #3 ranked Snow College, who will join the Eagles in Missouri, entering the tournament at the #3 seed.
Eastern received recognition at the conference tournament with Kameron Weise, Rachel West and Emma Ricks all being named conference first-team; Sunny Perry and Lindsey Otero conference second-team, and Coach Danielle Jensen named Co-Coach of the Year.
Jensen said, "We like to play using love for one another and all of our supporters as sole motivation for what we do. Fear can get a team far, but when a team's individuals reach beyond themselves and work with love as their sole motivation for everything they do, that's when you have a great team. And looking at each one of these girls I have no doubt what has motivated them to get this far, and how they will continue as they compete at nationals."
Wrapping up the last few weeks, Eastern defeated Colorado Northwestern Community College March 26, 3-0. They headed to Richfield April 1-3 for the conference tournament with an overall record of 23-4. They received a bye the first night and played SLCC the second night and Snow the final game of the tournament. Coming into the tournament.
Maci Harrop said, "Yes, our wins this season felt good, but our losses are just as valuable, if not more. I can't wait for us to use the Snow game as a learning experience, bounce back and become all that we can be. I don't think we have hit our full potential quite yet. I am excited to use these two weeks to our benefit, because the grind never stops!"
Sunny Perry said, "If you do not progress forward, you progress backward; there is no standing on the same ground from yesterday to today. Change is inevitable, and complaisance is the killer of progress and the stunter of success. Everyday, every point, every practice and every game we use the good and the bad outcomes to teach us a lesson."
The Eagles have two weeks to prepare for their next challenge, the NJCAA D1 National Tournament spanning April 15-17.
Kennedy Poulton said, "We have worked our butts off and we are such an amazing group of girls that we are excited to take this on. This is a once in a lifetime opportunity that we can't and won't take advantage of. We have played together with a purpose from the very beginning, and I am excited to continue to work and see where that will take us."
For those that do not know what an at-large bid is, there are two ways to make it to nationals, winning the conference tournament or being ranked high enough you get a national bid. The tournament gives out two bids to the highest-ranked schools who did not win their conference championship. Since the Eagles are the next highest ranked team at fourth in the nation behind Miami Dade (1), Odessa (2) and Snow (3) who both won their conference tournament, USUE is going as well.
The Eagles have beat both Miami Dade and Odessa before. Many have said that they are excited and that it will be interesting to see what happens at the tournament.