Eagles suffer tough losses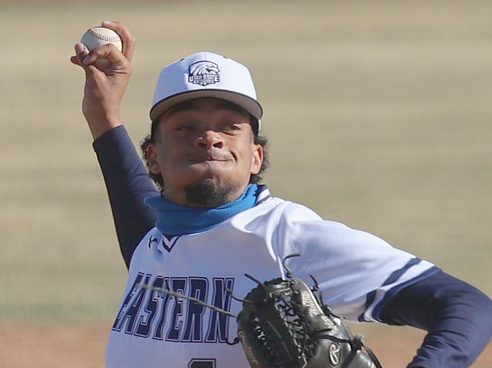 Utah State University Eastern's baseball team took the field the past few weekends against tough competition, taking on the College of Southern Idaho and the College of Southern Nevada. The Eagles first took on the No. 13 Coyotes in a three-game home series.
The Eagles struggled in game one against the Coyotes, as CSN jumped to an early 9-4 lead after three innings. Dawsen Hall and Ethan Udy led the charge at the plate for the Eagles. Udy led a third-inning surge as the Eagles put up three runs, trying to string together a rally against the Coyotes. This inning for the Eagles was not enough as CSN would won 17-5. Kody Nelson got the start on the mound, tallying three strikeouts in three innings of work.
Games two and three were great back-and-forth battles between the Eagles and Coyotes.
USUE tied game two late, as Parker Applegate hit an RBI double, scoring one run for the Eagles. Applegate and Hall led the Eagles at the plate, tallying multiple hits each. Parker Buys and Karter Pope threw a great game on the mound for Eastern and received support from the Eagle defense, as the Eagles did not commit a single error in the game. Unfortunately, this was not enough as the Coyotes won game 4-2.
Game three was equally great as Eastern's Hayden Brock got the start on the mound. Brock received great offensive support from the Eagle bats as Kaden Kunz and Udy once again led the Eagles at the plate.
About the CSN series, Coach Haney said, "We knew going into this weekend it would be a great series. We played well and had chances to swing the game in our direction multiple times. Our players competed through the weekend dealing with weather and field prepping to get things ready. This team shows a lot of heart and determination to compete. It is great seeing them play as a team".
Eastern travelled to Twin Falls to take on the Golden Eagles of Southern Idaho. Eastern fought through a tough four-game series against the Golden Eagles. Eastern was able to string together a few good innings offensively against tough CSI pitching.  Dylan Sanchez and Skiler Hohrein led the way for EU offensively, tallying multiple hits throughout the four-game series.  Brock, Riley Ashton, and Buys had solid outings for the Eagles. They dropped all four games: 8-5, 3-1, 7-1 and 13-7.
Haney added, "These double headers are tough days. We saw great pitching and lost a close one in game two. Our pitchers worked out of big situations and allowed for us to stay right in the game. Were just missing that one or two little spark plays to put us on top".
Eastern travels to Smithfield to play Utah State Club team in a non-conference battle on April 9-10.