Experience and education defines McOmber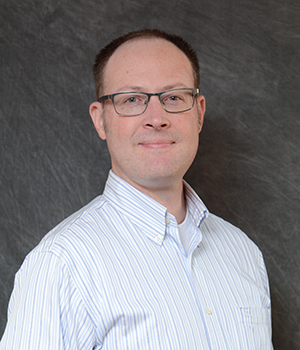 Oftentimes nursing is considered a female-dominated profession, but that doesn't mean there aren't awesome male nurses. David McOmber is the only male staff member in the nursing program at Utah State University Eastern.
McOmber was born in Provo, Utah, and spent some of his life there. His parents and three children moved to Santa Rosa, California.
McOmber pursued his nursing degree in California, graduated and moved to Utah to complete his BSN at the Universiry of Utah. While living near and working at the LDS Hospital, he met his wife at a church play called, "Bye Bye Birdie."
"She sat two seats down for me and I was thinking to myself, I'm going to get her number."
He never ended up getting her number that night, but later that week, McOmber ran into his future wife at a local cafe in downtown Salt Lake. He waited patiently for her to finish eating, approached her and ended up getting her number.
They continue enjoying being together, hiking, camping and exploring. Both McOmber's want to travel, especially to New Zealand.
The couple adopted two children. It was hard to get the children because three adoptions fell through before the McOmber's were able to get their first child. And one more fell through before they were able to get their second child. As a family they enjoy going to national parks, the beach and spending time together.
At USU Eastern, McOmber is the professional practice assistant professor, focusing on teaching nursing prereqs for all USU's campuses.
"Teaching at the college level was on my bucket list and has been on my list for the last 20 plus years." He also owns his own business in Price as a local part-time nurse practitioner. "I primarily focus on seizures, headaches and concussions, but I have also made some really interesting diagnoses related to nutritional deficiencies in particular."
His proudest achievement, he said, "Is my four degrees: AA, AS, BSN, MS." He has an incredible education and clinical experience under his belt. He started his education in California where he graduated from Santa Rosa High School. He earned his certified nurse assistant and associates of arts degree in 1997.
He went on to earn his associate of science in nursing degree, and graduated from the University of Utah in the RN-BSN program and continued to graduate school at the University of Michigan, and is licensed as a nurse practitioner in 2008.
McOmber worked several different jobs as a nurse including in the medical oncology unit in Provo, Utah. He also has worked in the Telemetry Step-Down Unit at the LDS Hospital, and several other Intensive Care Unit.
He worked at a trauma level-2 hospital where he increased his knowledge and ICU experience for 2.5 years. He said he saw a lot of crazy things throughout this experience working in these places.
While in graduate school, McOmber worked occasionally within the "as needed" pool for different ICU's to continue his nursing experience. He worked as a travel nurse and ended up in a neuro ICU.
"I then became the third nurse practitioner on this neuro ICU unit. Over the course of the 3.5 years I was there, I personally responded to at least 250 brand new stroke patients coming into the ER."
His favorite part of nursing, "Being able to help vulnerable individuals." His favorite part of being a teacher is, "It's such a privilege for me to be a teacher. It is awesome that I get to talk to the up and coming nurses and to influence students hopefully for the better, and avoid some of the mistakes made."
McOmber has always had a passion to help others around him learn about what is going on, and close friends and coworkers have always told him that he would be an excellent teacher.
From a knowledgeable nurse who has a lot of experience in the medical field, his advice is, "If we don't increase the number of nurses that are coming into the pipeline then you will have a whole bunch of new nurses without experience at the same time you have retirement."
McOmber says that USU Eastern's nursing program provides a high quality education in a great community where you can have access to your professors and are able to have more one-on-one time with them.