Women's soccer fights hard to stay in the game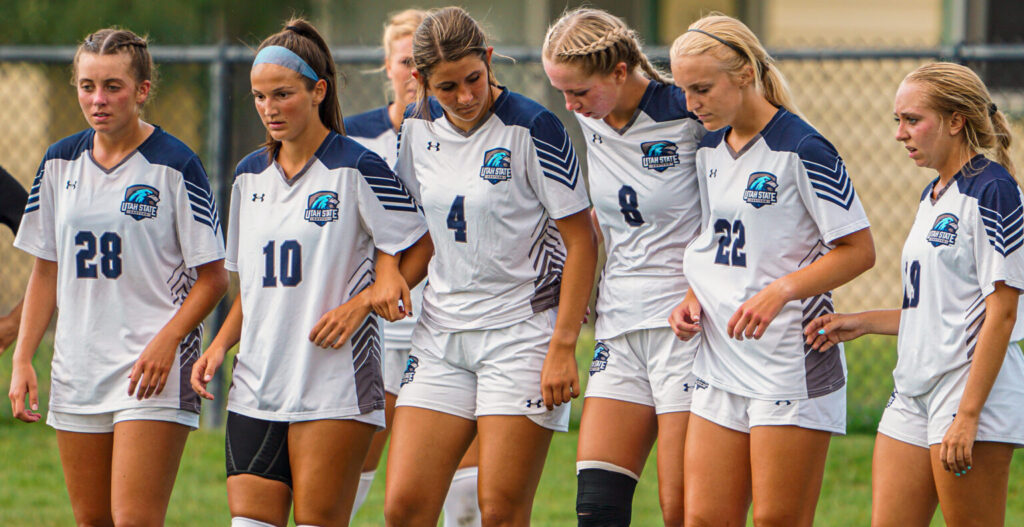 REDLANDS, Calif. — The USU Eastern Women's Soccer team took a 10-hour drive to Christian Community College, but it was well worth it.
The Eagles defeated CCC 5-0 two weeks ago. They struggled to find a rhythm the first 45 minutes to lead 1-0 at the half. But they found the back of the net four times in the second half. Sophomores Kallie James and Gracie Sorensen scored two goals each and freshman Camille Hudson scored the fifth and final goal.
After the game the Eagles hopped back on the bus and traveled to Southern Nevada last Saturday, losing 3-1. Sophomore defender Hanna Carlisle scored at the beginning of the first half with an assist from freshman midfielder Lexi Paulsen, putting the Eagles ahead 1-0.
"The CSN game was a hard loss," sophomore defender Hanna Carlisle said. "Our team didn't outwork CSN, and we didn't play our game, but watch out because we will bounce back. Check the stats October 23when we come back ready to show them who we really are."
After a long week of travelling, the Eagles were back on the road again the following week headed to Reno, Nevada. There they lost to Truckee Meadows Community College, 2-1.
TMCC came out strong and scored a goal due to what could be considered a simple defensive mistake. Luckily, not long after, Paulsen put the ball in the back of the net to tie the game 1-1.
However, that score didn't last for long, when Truckee scored another putting them ahead 2-1 at half-time. The Eagles came out strong in the second half and out possessed TMCC the entire 45 minutes. With many opportunities on goal, the Eagles just couldn't seem to put the goals away, resulting in a heart-breaking loss.
"I'm so proud of the girls this past weekend in Reno," sophomore captain Miranda Hales said. "One of our team goals this year is to play with heart, and in this one game, everyone showed more heart than I've seen the entire season. Sadly, we didn't get the result we wanted, but every girl on and off the field gave everything they had. And that alone makes me so proud."
"You can be the better team overall, and you can outplay the other team in the game, but you can still lose against them. It's a difficult aspect of soccer," Coach Jared Woodhouse said.
The women's record is 3-4 in the SWAC conference, which is more than halfway finished. The Eagles hope to bounce back from this past week and come out with some wins.
Assistant Coach Mackenzee Brough said, "The women had some pretty tough games the last two weeks of conference. There were some hard losses and a fun win, but the girls walked away learning so much that we as coaches feel like the girls are prepared for the hard games they have coming up this week against Salt Lake and Snow College."