Basketball starts play in Taylorsville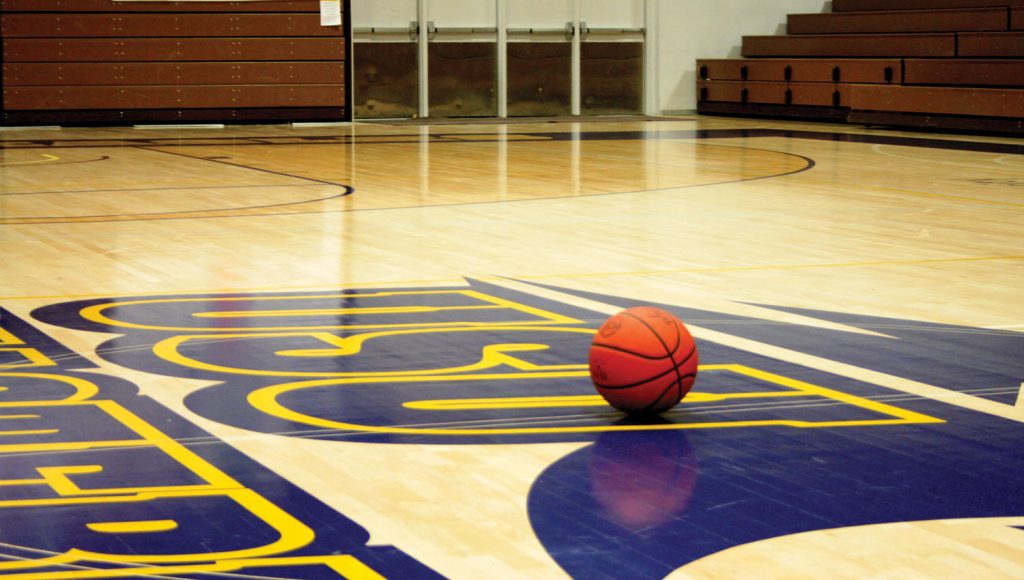 The Utah State Eastern men's basketball team
had a lot of ups and downs last season, finishing
fourth in the Scenic West Athletic Conference.
Bill Evans, in his second year as head coach, will
attempt to improve on his solid 14-9 season with
a promising new team deep in exciting recruits.
Last year ended with a loss to the Southern
Idaho Golden Eagles in the conference tournament
semifinals. The Eagles have one returning starter,
two returning sophomores, and one returning
redshirt sophomore. Other than that, USUE has
an entirely new team with 15 freshmen. It will be
intriguing to see how the team chemistry develops
throughout the season.
The biggest questions?
The biggest question is…how will they compete
in the brutal SWAC conference that appears to be
tougher this year than last? The three powerhouses
Salt Lake Community, Snow, and CSI [spell these
out on first reference] have dominated the conference,
winning nine of the previous ten SWAC
championships. This year, SLCC is the top-ranked
junior college team in the nation and CSI is ranked
15th. Snow College makes a regular appearance in
the national rankings. USUE, with its young roster,
will have to gel.
The Roster
Three players are from foreign countries, while
the others come from different states. Mabeny
Naam is 6-foot-11, but he's the only player taller
than 6-foot-7. The team's average height is about
[We should be able to get this exact, not about]
6-foot-3. CSI's average player is 6-foot-5, which may
not be a problem depending on how the coaching
staff runs the offensive system.
Expect USUE to play some small ball at times
with an emphasis on outside shooting. The Eagle
lineup consists of many solid shooters, playmaking
guards, and some physical bigs to man the middle.
The Eagles will often have a size disadvantage, but
can negate it with accurate shooting and defense.
Key players include:
Kevin Bethel: A sophomore guard from Los
Angeles. He started five games for the Eagles last
season, shooting 42 percent from the field and
averaging three assists per game. This season, his
playmaking skills will be a tremendous asset to
the Eagles.
Peyton Falslev: A sophomore guard from Sky
View High School in Smithield, Utah, Falslev was
one of the team's deadliest shooters last season, hitting
40 percent of his 3-pointers to average seven
points per game. Falslev started last season on fire
but faded. This season, he'll likely shoot plenty
from beyond the arc.
Mabeny Naam: A South Sudanese 6-foot-11
freshmam. Naam spent a year at Athlete Institute
in Toronto, Canada, before coming to Price. Naam
will have to contribute on both offense and defense.
Kurt Wegscheider: A sophomore transfer from
the Division I University of New Mexico, where he
averaged 2.5 points per game, shooting 48 percent
from the field. Anytime a team can sign a D1 athlete,
it is a significant win.
Gbenga Olubi: A 6-6 freshman from Los
Angeles. Olubi averaged 15.2 points per game at
College Prep Academy Online and led the West
Coast Elite to third place in the Under Armour Association.
More key players to watch out: Freshman
Jael Vaughn, red-shirt sophomore Dillion
Sorenson, freshman Jahein Spencer, and freshman
Malek Malual.
The bottom line is that USUE has struggled in
the past to get past the SWAC conference's elite
teams. Coach Evans' prior years as a DI head coach
[where?] have paid off for the Eagles recruiting
and this may be their breakout year.
USUE is expected to finish in third or fourth
place, but they could be the dark horse to win if
all the elements fall into place.
The regular season begins on the Salt Lake Community
College in Taylorsville on Nov. 5, where
the Eagles play a jump start game at 3 p.m. and
on Nov. 6, they play Northeastern Junior College.
Their first home game is Nov. 9, against SLCC.