Macy Clements, Utah State University Eastern's goalkeeper, always dreamed of playing college soccer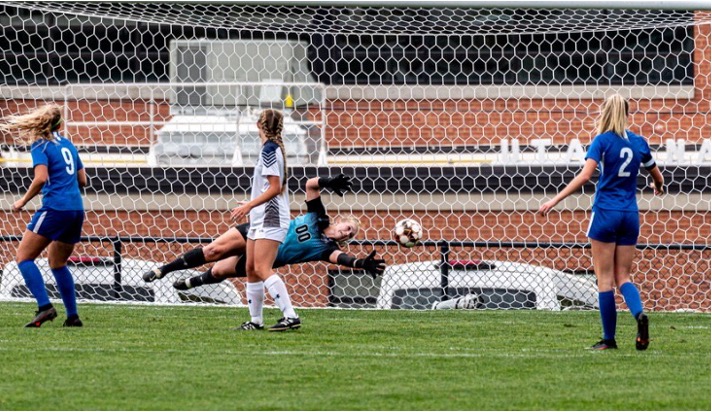 By Lexi Paulsen
Macy Clements, Utah State University Eastern's goalkeeper, always dreamed of playing college soccer.
"What I love most about the game is the competitiveness," Clements says. "As a goalkeeper, the team counts on you. Plus, I get to make fun saves."
If making saves is her definition of fun, she's had a lot of it. This season, she had 88, an average of almost 11 per game. In USUE's upset over Salt Lake Community college she save 30 shots to send the game into overtime. The Eagles had but two shots the entire game, but the second one scored.
Clements was born in St. George and raised in Springville, Utah. She has four siblings and when she is not on the soccer field, she loves doing anything outdoors. In her second year at USUE, she plans to major in biology and hopes to become a veterinarian.
She started playing soccer when she was six years old and joined her first club team at eight. She was a varsity starter four years at Springville High School.
She never really played other sports, so soccer was her focus. However, she made it a tradition to bowl in Price every Thursday night with her best friends, her soccer teammates.
"Macy is the best goalkeeper I have ever played with," says sophomore midfielder Maryn Stoddard. " I love playing on the field with her because I know I can always count on her. The saves you think would be impossible to make, she somehow finds a way. She is one of the hardest workers on and off the field. I'm grateful I was able to watch her ball out these past two years."
Clements plans to serve a mission for the Church of Jesus Christ of Latter-day Saints this coming January. She is called to serve in the Bakersfield, California mission. When she returns, she hopes to continue to play the game she loves.
"I'm sad to leave because of the people, but I am looking forward to what is to come," Clements says.