Volleyball team loses conference chances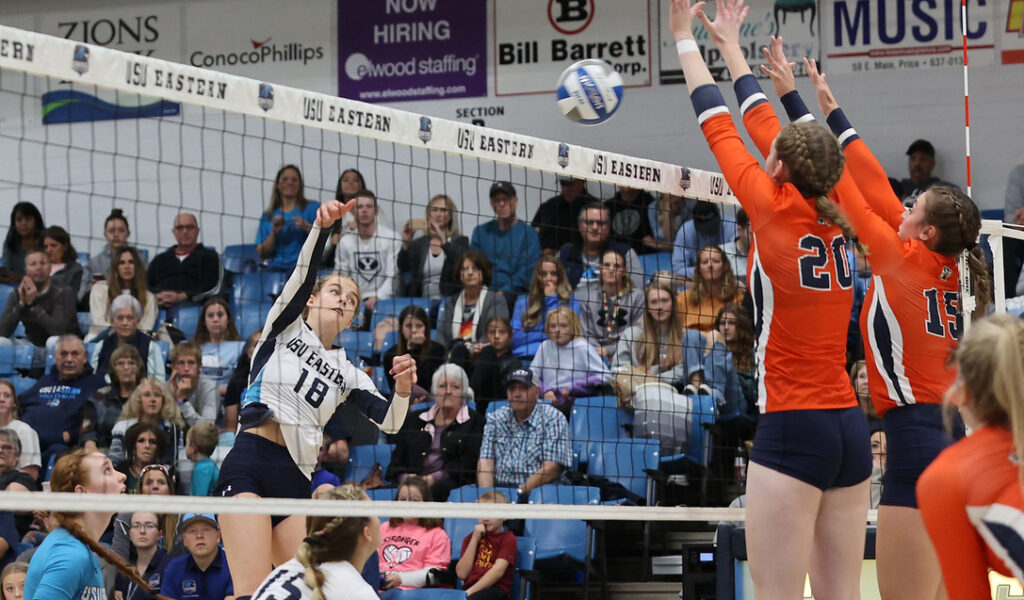 The quest for a first-ever conference volleyball tournament title ended last weekend when the Eagles fell 3-0 to Snow College in the Region XVIIII championship match in Rangely, Colorado.
Then, some unranked teams in other parts of the country pulled off upset tournament victories to ice the Eagles out of an at-large bid in the NJCAA tournament in Kansas.
It was the second time this season USUE lost to Snow College, though the Eagles went into the tournament as the No. One overall seed in the Scenic West Athletic Conference and the eighth-ranked junior college team in the country.
The loss was devastating, but USUE had realistic hopes to make the NCJAA tournament. Last season, the Eagles sneaked in despite losing their conference title and they were hoping for the same result. But despite having their best season in years, the team didn't receive an at-large bid.
How does? An eighth-ranked team not being invited to a 16-team tournament.
It is hard to believe that the Eagles couldn't at least get into one of those final two spots. Here's how it happened. The tournament is set up as a sixteen-team single-elimination bracket. The tournament winners of each region/conference get an automatic bid. There are 14 regions with automatic bids to the champions. That leaves two at-large bids for the rest of the field. USUE seemed like a lock to get one of those bids if they didn't win their region championship.
But unranked teams Hill College (Texas), Polk State College (Florida), and Jefferson College (Missouri), shocked everyone by winning their regions. The upsets gave all three unranked teams automatic bids to Kansas. Polk State College was a game under .500 (11-12) before they stunned the top-ranked team Florida Southwestern in their first tournament game. After that upset win, Polk caught fire and went on to win the Southeast region tournament championship.
Jefferson College also came in as an underdog into their tournament and won, beating seventh-ranked Iowa Western in the championship game to seal their invitation to Kansas.
These upsets across the country made it tough for the selection committee. Even though USUE beat Florida Southwestern 3-1 early this season, Florida Southwestern and Iowa Western College got the two last playoff spots over USUE. The committee ultimately picked the two teams ranked slightly higher than USUE to get into the final tournament spots.
USUE's record was 20-8 with a Region XVIII regular-season championship. The Eagles got ranked as high as seventh in this year's national rankings while playing one of the hardest schedules in the nation. Most people thought that even with the championship loss to Snow, the Eagles still should get in the tournament with an at-large bid.
It makes me wonder if the NJCAA tournament should add more at-large bids. The fact that there are only 16 teams in the competition baffles me. Every NCAA volleyball tournament contains 64 teams in every bracket, ranging from Division III to Division I.
Hosting that many teams would be a hassle for many junior colleges. However, 16 teams is too few. USUE is not the only high-ranked team to miss the tournament. Ninth-ranked Salt Lake Community College and 13th-ranked Northeastern also missed out. Elite teams should participate and play in the NCJAA tournament and adding additional at-large bids to the competition would help them, and would make it more entertaining.
Missing a trip to Kansas is frustrating, but USUE had a fantastic season and displayed itself as one of the premier teams in the country on several occasions. USUE traveled to third-ranked SLCC and defeated them in four decisive games, and it defeated eventual champions Snow in four games earlier in the season at home. The Eagles were also very efficient; they were at the top of many team national junior college statistics this year. The Eagles were top five in the country in digs per set (20), top10 in assists per set (12), and among the top 15 in the country with 12 kills per set.
Other players this volleyball season were awarded many different accolades and regional all-team honors. Sophomore Emma Ricks was outstanding on defense all year, earning the SWAC defensive player of the year award for her work. Ricks averaged over six digs per set and finished 4th in the country in digs per set. Ricks also made all-region first team as did her star sophomore teammate Sammy Perry. Lindsey Otero and Ashlee McCune were named to the All-Region XVIII second team. Alyssa Simmons was honorable mention.
Libero Ricks will continue her collegiate career at Dixie State University, a Division I university. Middle blocker Lindsey Otero will also continue her career as she committed to Division-II Dallas Baptist University.
USUE had a fantastic season. It was one of the most memorable in recent memory. Unfortunately, it ended in heartbreak and disappointment, but there was plenty to celebrate. This is a brutal way to end the season for sure, but the future is promising for the Eagles. Every season the USUE volleyball team seems to improve overall as a program. Every year coach Danielle Jensen gets her team better and this year generated a lot of buzz and excitement