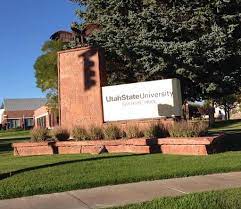 Utah State University Eastern, once a simple junior college with associate degrees to offer, now has 33 bachelor's degrees available that can be earned without leaving campus.
The doors were swung open wide to increased offerings during the pandemic when classes were offered online, and this spring Eastern will introduce its first bachelor's degree in biology and graduate its first biology student. Two degrees in aviation technology have become popular and the main campus is sending students down to Utah's third largest airport in Price where they can get more flight time than in Logan, says Cameron West, USUE admissions specialist.
More degrees are in the works, but for now there are degrees from accounting to wildlife biology. In addition, 26 master's degrees, three PhDs, 16 associate's degrees, seven professional education endorsements, and two professional education licensures are available in Price.
"We want students to decide to come to Eastern and stay here and finish their degree instead of starting and finishing somewhere else," West says. "I think the new degrees are awesome, I'm so excited about them and I wish we had more."
West says the smaller campus allows Eastern to offer a different experience and "Much of our recruitment growth is coming from students seeking bachelor's degrees."
It's safe to say that USUE is no longer a two-year college. The current degrees being offered at Utah State University Eastern are:
Accounting
Agribusiness
Anthropology
Aviation Management
Aviation Technology
Aviation Technology Professional Pilots License
Professional Pilot
Business Education
Communicative Education and Deaf Education
Data Analytics
Economics
Elementary Education
English
Environmental Studies
Geology
Health Education and Promotion
History
Human Development and Family Studies
Human Experience; Design and Interaction
Information Systems
Integrated Studies
Journalism
Liberal Arts
Management
Marketing
Mathematics Education
Psychology
Recreation and Resource Management
Social Work
Sociology
Special Education
Technology Systems and Wildlife Ecology and Management.