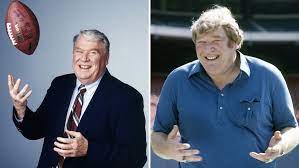 On Christmas day a documentary aired and, surprisingly, it wasn't a Christmas
documentary. Fox Sports aired a 90-minute documentary about the legacy and life of
John Madden. The film was a hit across the country with football fans, but the
documentary took on a new meaning when the football legend died three days later.
Madden was an NFL Hall-of-Fame-coach-turned-broadcaster who became one
of the most iconic voices for NFL viewers over the next 30 years. In addition, Madden
would be more known for his still ongoing video game series Madden, a virtual NFL
football-style video game. Madden sadly died on December 28, 2021. He was 85 years
old.
On April 10, 1936, John Madden was born to Earl Russell Madden and Mary
Madden in Austin, Minnesota. When John was ten, he went to Catholic school where he
met his best friend for life and another legendary NFL Coach, John Robinson. The two
Johns attended the University of Oregon. Robinson played four years while Madden
only played for one. Madden instead transferred over to California Polytechnic to finish
up his college football career and get his degree in teaching.
In 1958, Madden was drafted by the Philadelphia Eagles in the 21st round.
However, that summer at the team's training camp, Madden busted up his knee, and his
playing days were numbered. He instead wanted to coach, so he spent the 1959
season watching football film with Hall of Fame quarterback Norm Van Brocklin. He
would later tell NFL Films that watching film with Van Brocklin was the best education
he ever received and began working towards his coaching career.
Madden became an assistant coach at Allen Handcock College in Santa Maria,
California in 1960. He was promoted to head coach two years later. After the 1963
season, he left Allen Handcock to become an assistant defensive coach at San Diego
State University until 1966. During his tenure in San Diego, the Aztecs consistently
ranked as one of the top defenses in the nation. Madden's effort didn't go unnoticed,
and Oakland Raiders owner Al Davis hired Madden as a linebackers coach. After two
seasons, he got promoted to head coach. At 32, he was the youngest coach in the
American Football League.
Madden coached the Raiders for ten seasons, with 103 wins and 32 losses. He
helped Oakland win seven Western Division titles, including five in a row from 1972 to
Oakland never had a losing season under Madden's command. In 1976, the
coach led his squad to a near-perfect 13-1 record. The success continued in the
postseason with wins over New England in the divisional playoff game and a
commanding 24-7 victory over the Pittsburgh Steelers and their "steel curtain" defense
in the AFC Championship Game. Madden and the Raiders capped the 1976 season
with a 32-14 win over the Minnesota Vikings in Super Bowl XI. Between the 1976 and
1977 seasons, the Raiders won 17 games in a row, one short of the then-NFL record for
consecutive wins. Madden would retire after the 1978 season ending his coaching
career.
Although Madden retired from coaching in the NFL, he couldn't leave the game.
He joined CBS as a color commentator in 1979 and was elevated to the network's top
football broadcasting duo with Pat Summerall in 1981. The iconic duo in 21 years would
go on to call eight Super Bowl games. His calls of more than 300 games is more than
any other broadcaster in history. Madden was a natural. He used unconventional words
to describe plays that happened on the field like "Boom!", "Bang!" and "Doink!" That
made him memorable.
The broadcasting booth wasn't Madden's only media platform. He performed in
many commercials for Ace Hardware, Outback Steakhouse, Verizon, Miller Lite, and
many other companies. Madden also would go on to host "Saturday Night Live" in
Madden would officially retire from media in 2009.
Madden provided his name, voice, and creative influence to the John Madden
Football series of football video games, subsequently renamed Madden NFL beginning
in 1988. The video game franchise is one of the most successful video game series,
with 130 million copies sold and more than $4 billion in sales since it debuted in 1988.
Madden viewed the game as an educational tool for young players to learn about the
game.
John Madden is a legendary figure in the NFL world. Any football fan can hear
the name Madden and instantly know who you're talking about. He was not only a
fantastic coach but a phenomenal broadcaster, actor, and teacher. He is easily one of
the most influential people in NFL history.
The life and legacy of the great John Madden has impacted many in football. For
over 50 years, the name Madden and football have been synonymous. The man
dedicated his entire life to football and showed immense passion and determination
along the way. He was a significant influence in the lives of many football players
around the country, and I don't think football fans appreciated him enough. Thank you
for everything, Madden. Rest easy, legend.