USUE Dance Team back in concert after two-year COVID hiatus
This concert is a beautiful show that highlights the artistry and technique of every team
member.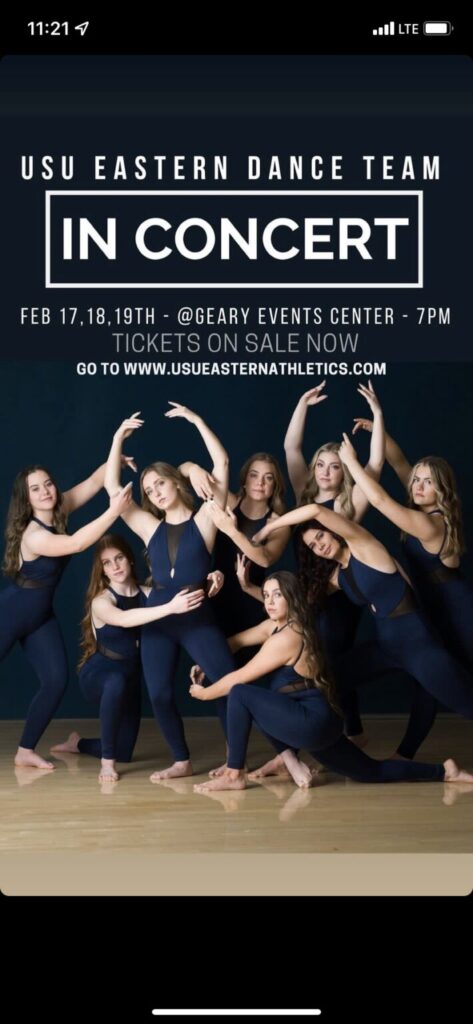 By Brooklyn Ward
The USUE Dance Team has spent this year doing a wide variety of performances. It has
performed at volleyball and basketball games on campus and has traveled to a number of guest
venues.

Now the team has the chance to put on a show all its own.

"I cannot wait for these talented dancers to showcase all of their hard work that they've put
into this show," says head coach, Brandi Taylor-Johansen.  "They have been preparing since
August, learning choreography, perfecting their technique and performance, all while
simultaneously cheering and performing at game days and events around Utah."

            This concert is a beautiful show that highlights the artistry and technique of every team
member. There is a wide variety of styles that will be showcased, everything from ballet,
contemporary, to hip hop, jazz, and modern. It's a well-rounded show that will have a little bit of
every style and the team will debut its dance on-film project.

           Routines have been choreographed by some of the best instructors and coaches in the
state. Stephanie Richards choreographed a stunning ballet piece. Zoey White, coach of
Mountain Ridge Dance Company, choreographed the hip hop routine. One of the team's
beautiful contemporary pieces was choreographed by Brynn Perkins, coach of Riverton Dance
Company.

That's just to name a few of the guests that have worked with USUE. Dance team members
have also had the chance to choreograph some of its own pieces, which makes it a show they
and the audience can connect with.

"I am certain that our audience will walk away having experienced a great night of dancing
while taking in many different emotions as they witness storytelling in motion," Taylor-Johansen
said.
            Concert dates are February 17-19. All performances start at 7 p.m. in the Geary
Theater on campus. 

"I am so beyond proud of these young women and I can't wait to show them off doing what
they love," Taylor-Johansen said.