Aggies Line Up For a Scoop to Celebrate Aggie Ice Cream Hitting 100 Years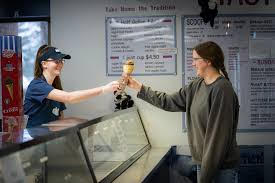 By Emma Shippen
LOGAN, Utah — Aggie Ice Cream celebrated 100 years in business on Jan. 21 by selling USU students $1 scoops.
The line of students and local Logan residents was so long it went out the doors and around the Nutrition and Food Science Building. The regular price of a scoop is $3.39 and can be bought as a cone or a cup. Sundaes, shakes, malts and freezes are also available.
The creamery raffled three prizes: a one-year supply to Aggie Ice Cream, a Beaver Mountain ski package, or an Aggie Staycation that included $125 in Bluebird Chocolate.
Utah State University was founded in 1888. Aggie Ice Cream opened its doors in 1922 and has been serving the campus and community since.
"In 1922 an estimated 2,500 people pitched their tents and made themselves at home for the annual Farmer's Encampment," it says on Aggie Ice Cream's page on USU's website. "Visitors could obtain milk, butter, cheese, and ice cream manufactured at the creamery."
"My favorite memory (at Aggie Ice Cream) was walking over after every one of my dance recitals at the Caine Concert Hall," said Logan native Adri Anderson, a senior majoring in personal relations. "I would always get raspberry sherbet because it was pink."
Some flavors come and go, and some stay. The first flavors in 1922 included pineapple, raspberry, chocolate, and vanilla. All are still being served today except for pineapple. There are currently 22 creative flavors on the creamery's menu. Some examples are: True Aggie Night, Aggie Space Debris, Aggie Bull Tracks, and That Blue One. Jeron Hanson, a USU business student, says his favorite flavor is "Aggie Blue Mint for sure."
Aggie Blue Mint is one of Aggie Ice Cream's iconic flavors. Sawyer Hemsley, former Aggie and marketing graduate, is the founder of Crumbl Cookie, the fastest-growing cookie company in the nation with more than 300 locations in 36 states.
Hemsley named one of Crumbl's cookies Aggie Blue Mint in honor of Aggie Ice Cream.