An injury weighed on the mind of a Utah basketball player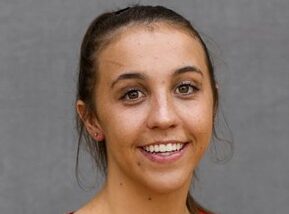 By Audri Richins
University of Utah starting point guard Kennady McQueen returned from a stress fracture that
caused her to miss a month of basketball. She described her injury as, "a big impact on my mental
health… I started off the season so good and was finally catching onto playing basketball at the highest
level, then bam. Injured."

McQueen, a 5-foot-10 sophomore, has recovered and was averaging more playing time than all but
two of her teammates heading into the NCAA tournament. The Utes, a seven seed, defeated 10 th -seed
Arkansas 92-69 in the first round before being eliminated 78-56 by Texas in the second round. She
scored a combined 39 points in the two games, way above her nine-point average.

Timely MD, a telehealth website for students, says that collegiate athletes are more likely than non-
athlete students to suffer from severe mental illness. They worry if they will lose their position, if they
will be able to play at the same level when they return from their injury. They worry even if they will be
the same person.

The NCAA has been aware of the problem and has emphasized that athletes be seen by qualified
mental health professionals. McQueen said she experienced the common rollercoaster of emotions, but
was quickly reassured by her coaches, teammates, and trainers that she just needs to trust the process
and know all she is capable of.

College life is overwhelming at times for the average student. Student athletes carry a heavier load
consisting of practices, academic responsibilities, and game-day performance. They are often criticized
by all.

An average day for McQueen goes as follows: "Wake up at 7, eat breakfast, arrive early to the training
facility to get taped. Thirty-minute film as a team, followed by a two-and-a-half-hour practice.
"After practice ends, I go to receive treatment for an hour and do ankle strengthening work," she said.
"After that I have class. Somewhere in between there I have lunch.

"Next, I head home to do homework and study, I usually study till dinner. When finished with that I get
ready for bed and try to sleep eight hours, only to wake up the next day and repeat."
Most student athletes' days look similar to McQueen's, clearly leaving no room for a mental health
check in. Overemphasis on mental toughness and performance can cause burnout, academic failure, and injuries.

According to a study by The Guardian, an international news source, there are approximately 500,000
college athletes who compete in the NCAA. Nearly 210,000, or 42% of them, will experience a minor or
serious injury within a year of competing.
McQueen's injury was considered minor, but was monitored closely by her coaches and trainers.
"I wasn't punished for being hurt, said McQueen. "When I returned from my injury, I was back in the
starting lineup."