35 family, friends and relatives attend graduation for Cody Phelps . . . is that an Eastern record?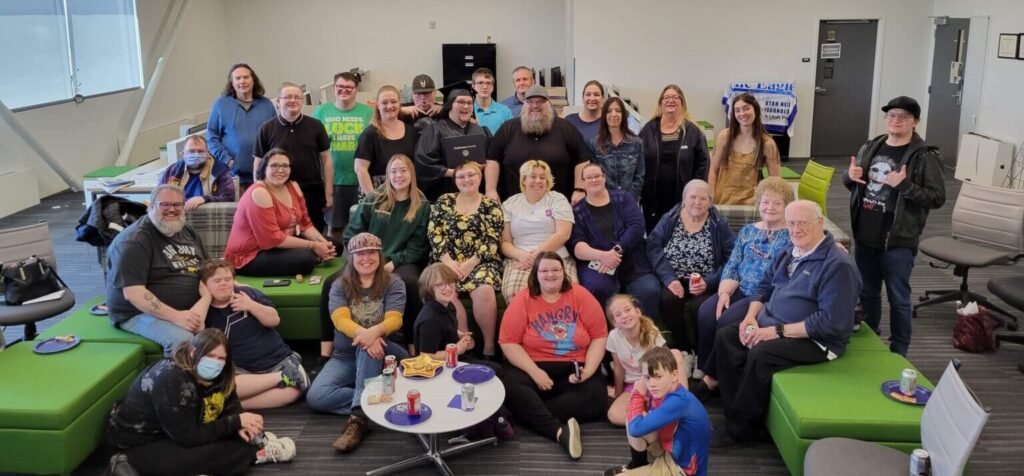 Graduating with a bachelor's degree is a pinnacle in a student's life. For one Utah State University Eastern student, the 2022 commencement featured 35-family members and friends driving to Price, Utah, on April 30 to support and congratulate Cody Phelps' collegiate success.
For the 23-year-old, his 35 supporters came from three states and included family, friends and bosses. "I could've had more come, but it would have been a lot to ask family members from farther away, like Texas, to drive to Price for graduation. It would take at least a day to get here and another day to drive home." Phelps said. "Honestly, I did not expect that many people to show up, especially because of the price of gas to drive to Eastern."
Growing up in West Valley, Phelps graduated from East Hollywood High School, a 300-student charter school with grades 9-12. His academic counselor advised him to enroll at USU Eastern because it was small and had a great faculty-student-teacher ratio. He is also legally blind so it would be easier for him to navigate a smaller campus.
Phelps planned on majoring in English, but sat in a JCOM writing class his second year of college and the rest is history. He served as editor of the award-winning Eagle newspaper the next three years and was notified his staff won 22 awards at the Utah Press Association's Better Newspaper Contest on May 12. He was also named the USU JCOM and Communication Department's Outstanding Print Journalist in April and presented the award by CHaSS Dean Joseph Ward in Logan.
With all these accolades, his parents were excited about the prospect of their eldest son graduating from college. "USU sent my parents an invitation in the mail inviting them to attend the convocation ceremony so my mom posted it on Facebook. Then she posted it to the family's group chat and everyone said they would be there. I shared photos of my cap and gown as a reminder of the ceremony on social media.
"A lot of my family from Salt Lake was at the graduation ceremony. I missed a few cousins and an aunt who is a nurse that had to work that day. Even my bosses from the Boys and Girls Club were there to support my graduation. It was very cool," Cody said.
After the ceremony, his family and friends decorated the USU Eastern JCOM newspaper lab with graduation balloons and signs while celebrating eating pizza, the same food he shared with his staff on every newspaper production night. It was in that room Cody had spent the better part of his time at USU Eastern writing, editing and laying out the newspaper.
This is not the last time the Phelp's family will be at a USU Eastern graduation ceremony. His sibling Kelsi is a sophomore at Eastern and his brother Riley is an incoming freshman. His 10-year-old brother, Ethan, will likely follow tradition and enroll in fall 2030.