Elizabeth R. Cantwell Named 17th USU President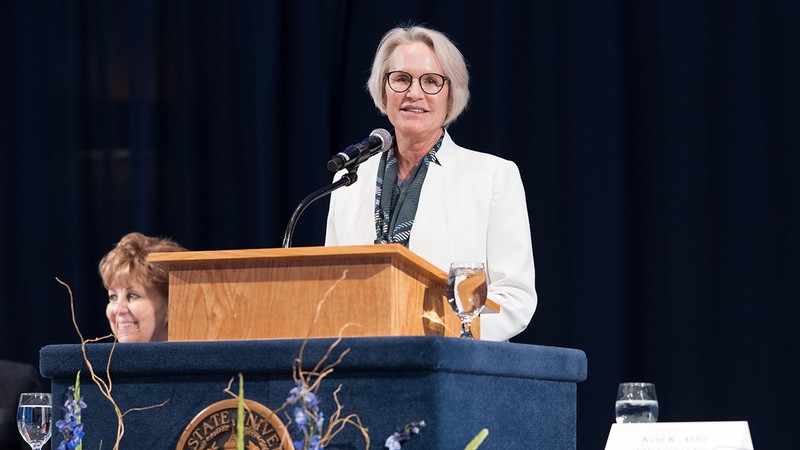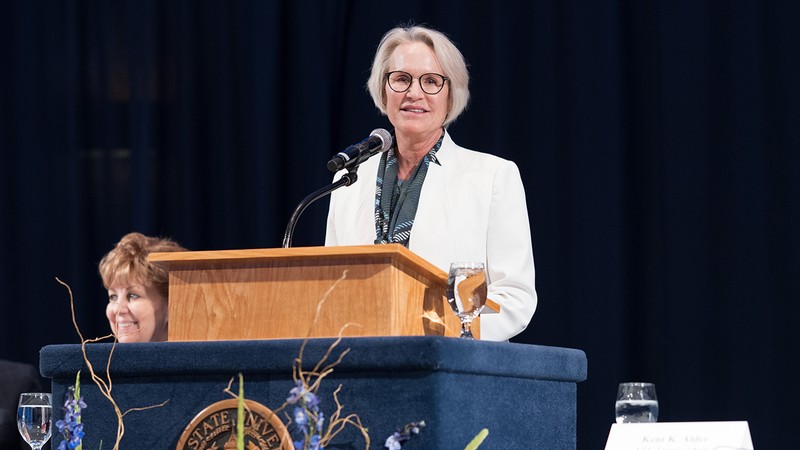 LOGAN, Utah — The Utah Board of Higher Education selected Elizabeth "Betsy" R. Cantwell as the 17th president of Utah State University on Friday, following an extensive national search.
Cantwell will assume the position later this summer. She succeeds Noelle E. Cockett, who served as president from January 2017 to May 2023.
"I'm enormously grateful for the Utah Board of Higher Education for the faith they've put in me to become the next president of an amazing institution like Utah State University," Cantwell said. "I'm very thankful for President Cockett for setting Utah State up as well as she has to be on the upward trajectory that it is today. I'm so excited about serving the students, faculty and staff who have been welcoming, charming and made me certain that this is the place to be."
The Utah Board of Higher Education named a 19-member search committee, including a variety of community members and stakeholders, in December 2022. That committee, co-chaired by board member Rick Wheeler and USU Board of Trustees Chair Kent Alder, spent several months soliciting input through public meetings and in-person interviews and conducted research to select finalists qualified to fill the president's role according to statutory criteria. The search committee forwarded three finalists to the Utah Board of Higher Education and a public comment period ensued. The board then heard input on the finalists and interviewed them. Cantwell was one of three finalists announced on May 1.
There was tremendous interest in the presidency of USU, which resulted in many well-qualified applicants. Each applicant is evaluated for many qualities, including their academic and research credentials, leadership experience, community engagement and vision for the institution they hope to lead. Both internal and external candidates are considered. This search, as well as others in the past, was conducted on a confidential basis until finalists were selected.
"Dr. Cantwell has four degrees, including a Ph.D. and MBA," said Kent Alder, USU Board of Trustees and Presidential Search Committee co-chair. "She has excellent leadership experience outside of higher education that completes her skill set. She has been successful in many roles in her career and will continue to do so. Her background in research is very impressive and simply adds to her qualifications."
Cantwell is currently senior vice president for research & innovation at the University of Arizona. Cantwell is responsible for an $825 million annual research portfolio, and her responsibilities include the 1,268-acre UA Tech Park. The UA Tech Parks contribute $1.7 billion annually to the regional economy. The research and innovation enterprise spans 20 academic colleges with physical locations across Arizona, 12 university-level centers and institutes and other major research-related affiliated organizations conducting classified and contractual work.
Cantwell came to UA from Arizona State University, where she served as VP for research development and CEO of the ASU Research Enterprise, a 501.c.3 dedicated to translating research. Prior to ASU, Cantwell served at the Lawrence Livermore National Laboratory as director for economic development and director for engineering mission strategy. From 2008-2010, she served as deputy associate director for global security at the Oak Ridge National Laboratory, and she served at the Los Alamos National Laboratory and the Lawrence Livermore National Laboratory in earlier years.
"Elizabeth Cantwell will be an innovative new president for Utah State University building on the already strong research excellence and statewide service model," said Lisa-Michele Church, Utah Board of Higher Education chair. "Our board was excited to hear her vision for the land grant university mission and the bridges which can be built with students from all backgrounds. We are also impressed with her outstanding academic and leadership credentials."
Cantwell is a graduate of the University of Pennsylvania, Wharton School (MBA, 2003); the University of California, Berkeley (Ph.D., Mechanical Engineering, 1992); and the University of Chicago (BA, Human Behavior 1976). She is a current member of the NASEM Committee on NASA Critical Workforce, Technology & Infrastructure, and is a fellow of the AAAS in Industrial Science and Technology. She serves on the board for the ISS National Laboratory and is chair of the Space Telescope Science Institute Council.
Learn more about President Cantwell at usu.edu/president-search.
About Utah State University
Utah State University is a premier land- and space-grant institution committed to excellence, access and inclusion. Since its founding in 1888, USU has evolved from a small agricultural college tucked away in the Northern Utah mountains to a thriving, R1 research university with locations serving the entire state of Utah and known throughout the world for its intellectual and technological leadership.
About the Utah System of Higher Education
The Utah System of Higher Education (USHE) is governed by the Utah Board of Higher Education and is comprised of Utah's sixteen public colleges and universities. For more information, visit ushe.edu.