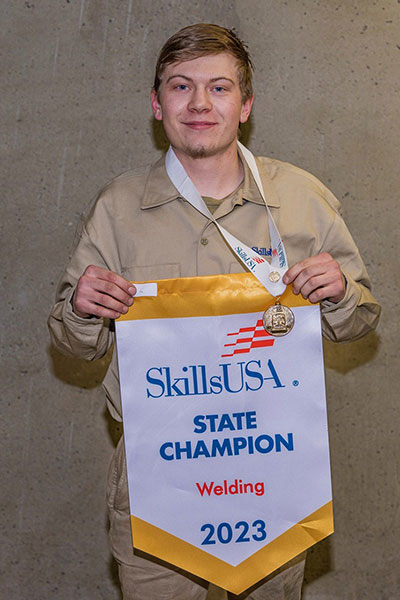 Utah State University Eastern's welding technology program and the diesel and heavy equipment mechanics program triumphed at the SkillsUSA Utah Skills and Leadership Conference held at Salt Lake Community College, bringing home multiple gold, silver, and bronze medals.
SkillsUSA is a national partnership of students, teachers, and industry working to ensure the country has a highly skilled workforce. Part of the organization's mission is to help middle school, high school, and college students develop workplace, personal, and technical skills and build careers. The competitions are a chance for the students to test and demonstrate the technical skills they have learned and practiced.
USU Eastern's welding fabrication team, consisting of Noah Vergara, Kenny Bell, and Dallin Cardon, achieved its fifth consecutive gold medal at the statewide competition. The welding fabrication team's victory was complemented by Wyatt Hansen, who placed first in individual welding.
Andrew Fausett also secured a gold medal in the job skills demonstration for the diesel mechanics category. Both programs are set to represent Utah at the National Skills and Leadership Conference in Atlanta, Georgia, in June.
The diesel and heavy equipment mechanics program's success continued with Tanner Mons earning a silver medal in the job interview category, Cordell Atene receiving a bronze medal for the job skills demonstration, and Calvin Sutherland winning a bronze in the diesel skills competition.
Welding technology instructors Austin Welch, Jeremiah Garcia and Jake Clement and diesel program instructors Dean Collard and Cody Mecham expressed pride in their students' achievements.
"All of these students have spent many late nights preparing for their contests," Welch said. "We are proud of their dedication, skills, and discipline."
USU Eastern's welding fabrication team, which has won three out of the past four national contests, is already preparing for the upcoming competition in Atlanta with daily practices.
"It is always rewarding to see the progress they all make in putting their whole-hearted purposeful activity," Welch said. "If anyone dives head-first into what they're interested in, they learn a lot. They always make pretty remarkable improvements between now and the national competition."
If Hansen succeeds again and earns the gold medal for individual welding at the national competition, he will become the USA's sole welding contestant at WorldSkills 2024. This would be the second year in a row that a USU Eastern student represents the USA in this prestigious competition.
"We're seen as the best welding program in the nation just because they have so many previous winners in these contests," Welch said. "For students who really want to compete in the nationals and world trials, USU Eastern is the natural next step."
Author: Shelby Ruud Jarman, College of Agriculture and Applied Sciences