USU names Life Sciences Building to honor President Cockett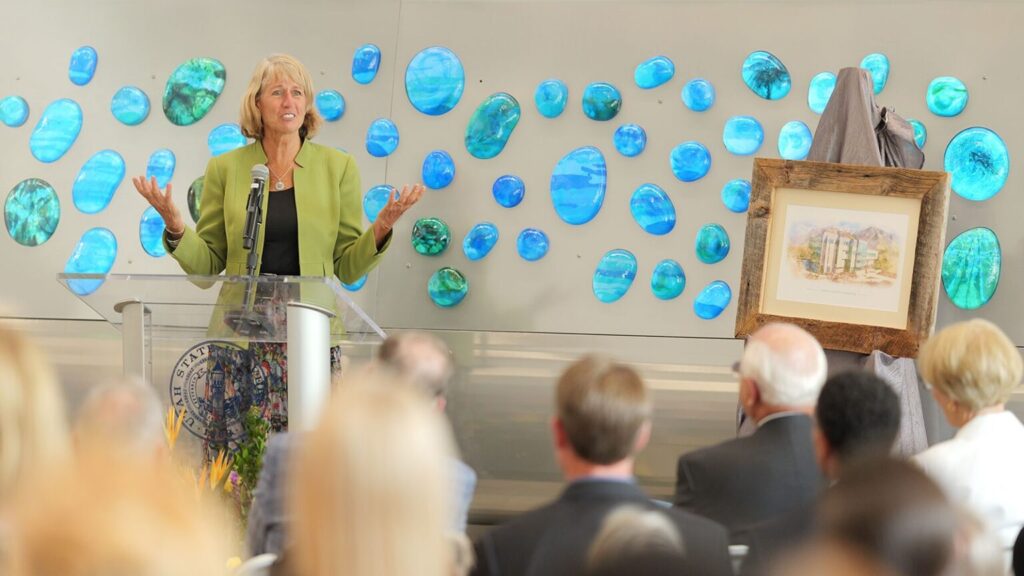 A parting gift to Cockett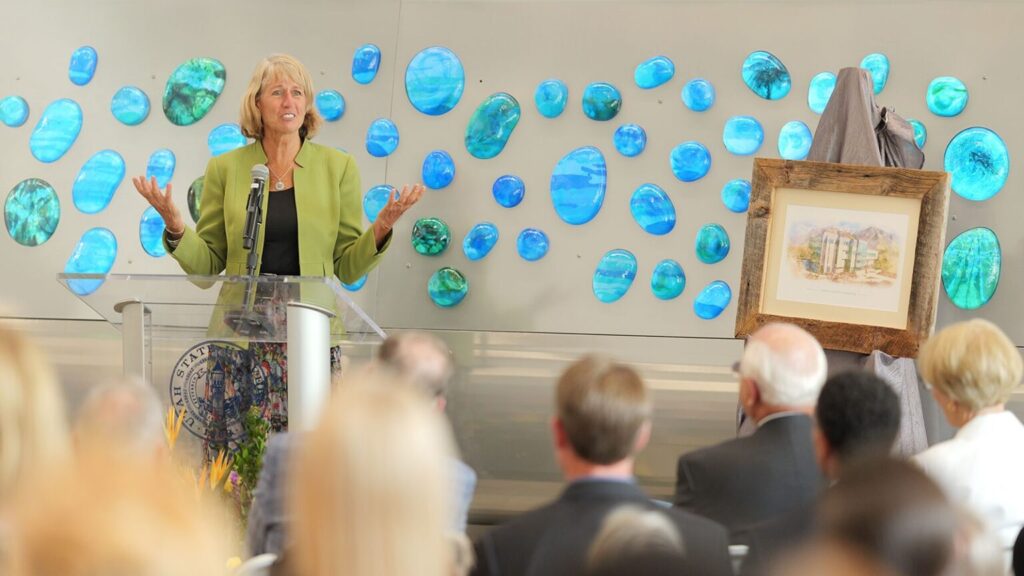 The newest academic building on Utah State University's Logan campus has a new name, in honor of the university's outgoing president.
At a June 15 farewell reception, USU Foundation Board Chair Jeannine Bennett announced the naming of the Noelle E. Cockett Life Sciences Building.
"Noelle's tenure has elevated the prestige and recognition of USU as she has overseen the creation of innovative centers and state-of-the-art buildings that have energized our campuses and communities," Bennett said in a speech that highlighted many of Cockett's accomplishments during her six-year tenure as president and 33-year career at the university.
USU broke ground for the Life Sciences Building on April 25, 2017 — four months after Cockett became president — and the building opened for classes on Jan. 7, 2019. It was built to meet the growing demand at USU for foundational biology courses, which are required for more than 30 undergraduate majors ranging from life sciences and natural resources, to agricultural, nutrition and food sciences, and engineering.
"Naming this building after President Cockett is a fitting tribute to her long and impactful career at Utah State University," said USU Executive Vice President Robert Wagner. "As a newly-classified R1 Carnegie institution, it is especially meaningful to designate a building in her name that contributes so substantially to the academic and research success of students and faculty at USU."
The 103,000-square-foot building houses a lecture hall, teaching and research laboratories, student study spaces, an outdoor teaching garden and a café.
When Bennett announced the new name of the Life Sciences building at Cockett's farewell reception, Cockett reacted with surprise, as did most of the attendees. She thanked her family for their support.
"Looking at all of your smiles, my heart is just bursting," Cockett said. "This is an incredible community and one of the most beautiful places I've ever been … my heart will always be here, and if you see me in the grocery store, please say hi."
Several buildings on USU's Logan campus have been named for past university presidents:
Widtsoe Hall — John A. Widtsoe, 1907-1916
Daryl Chase Fine Arts Center — Daryl Chase, 1954-1968
Glen L. Taggart Student Center — Glen L. Taggart, 1968-1979
Merrill-Cazier Library — Stanford Cazier, 1979-1992
Stan L. Albrecht Agricultural Sciences Building — Stan L. Albrecht, 2005-2017