Women's soccer edges closer to season's end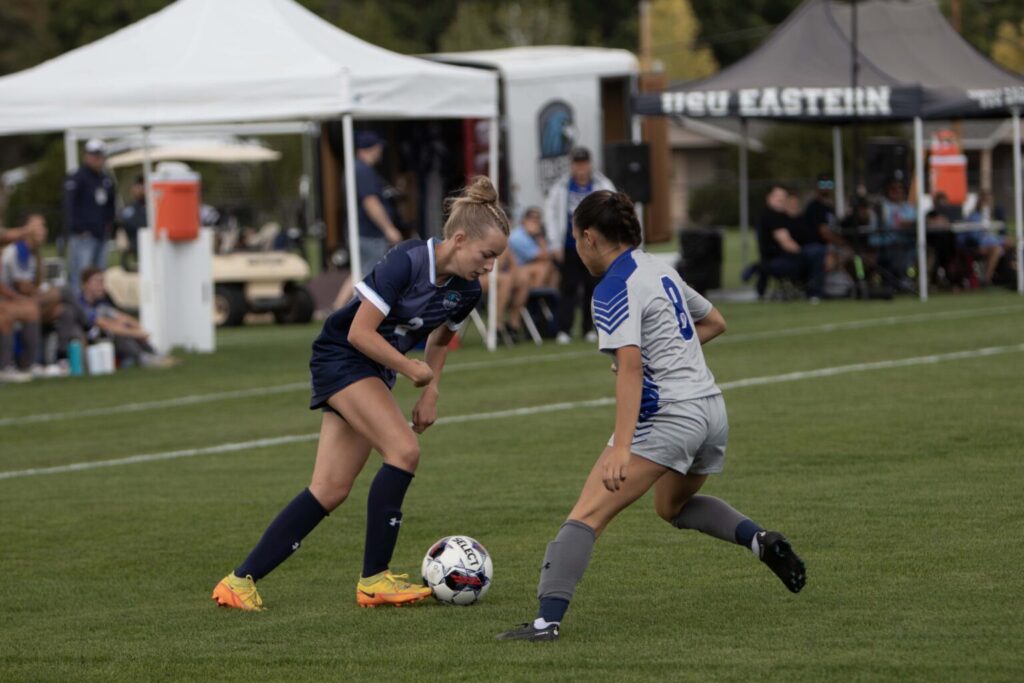 The Utah State University Eastern women's soccer team bounced back against Colorado Northwestern, winning 4-1. 
Abigail Wiggins lead the Eagles with two goals, both assisted by Sailor Jensen. Jensen later added a goal of her own with a free kick. Lauren Maxfield scored Eastern's fourth goal to put CNCC away.
Another great defensive match for the Eagles as they held a good offensive CNCC to only 1 goal on the day, and only allowing five shots on goal, compared to Eastern's 16.
USU Eastern returned home to play Truckee Meadows Community College. Both teams played an excellent defensive match, leading to a 0-0 draw. USUE goalkeeper Macy Clements recorded five saves to keep Truckee off the scoreboard. The draw was the first of the season for USU Eastern.
The Eagles stayed at home for the weekend taking on Pacific Northwest Christian College. Eastern wasted no time in putting away the Gladiators, emerging with a dominant 10-0 showing. Andie Adrus led the Eagles with three goals, bringing her season total to 11 on the season. Keli'a Tatom added two goals of her own. Saddie Coggins also had two goals in the match. Sailor Jensen, Loryn Stoddard, and Aubrie Baker each recorded a goal in the blowout.
Eastern's defense was outstanding for the entire match, not allowing a single score. The Eagles had 50 shots, 30 on goal, compared to PNWCC's one.
USU Eastern then traveled to the College of Southern Nevada to take on the Coyotes. Despite a valiant effort, USUE came up short, with Southern Nevada securing a 1-0 victory on the day.
The first half of the match saw both teams battle fiercely for control of the ball and aim for the crucial opening goal. USU Eastern applied heavy pressure and took 14 shots in the first 45 minutes, while Southern Nevada managed only five shots.
USU Eastern's goalkeeper, Macy Clements, made several impressive saves in the first half, keeping the Southern Nevada offense at bay.
Eastern did their best on offense to kept the match close but failed to find the back of the next.
"The girls have worked hard and are holding strong to the values they hold for USUE," said head coach Tracy Brady. "Looking forward to two big matches with a home field advantage. We are grateful for the community support that is behind us."
USU Eastern's record moved to 8-2-2 for the season as they return home to finish up conference play against No. 5 Salt Lake Community College and No. 18 Snow College next week at the Castleview Hospital Soccer Field.