Men's basketball 2023-2024 season preview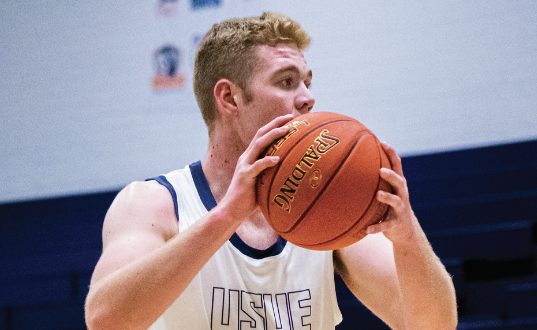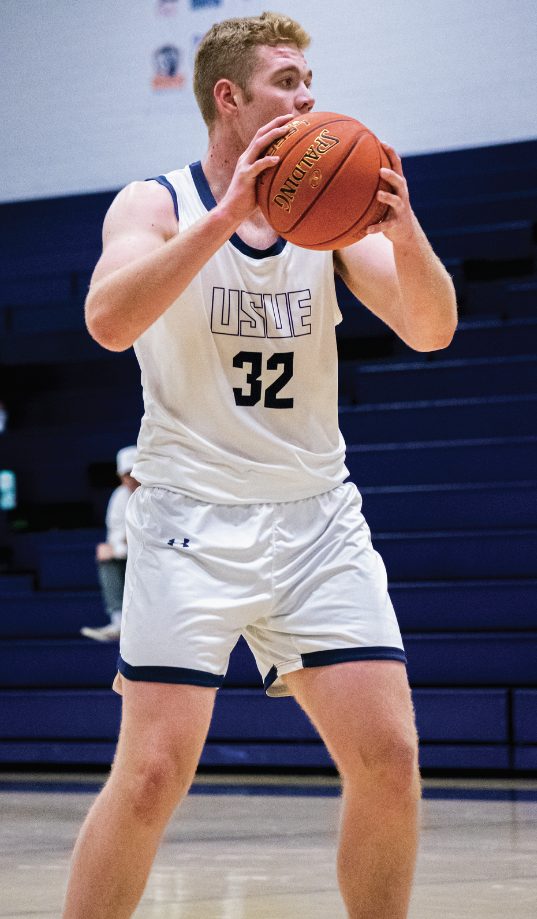 Dyson Lighthall looks to pass in a game last year. photo by: Dallin Grant.
As fall sports seasons come to a close and warmer weather approaches, excitement for the Men's Basketball Team at Utah State University Eastern is on the rise. The team wrapped up the previous season with a record of 12-18. With the 2023-2024 basketball season set to begin, the roster features both familiar and new faces. The entire team consists of second-year and first-year players, showcasing a wealth of talent. Coach Bill Evans will return as the head coach for the Men's Basketball Team, and Coach Easton Ralphs will continue as the assistant coach for the Eagles.
Out of the 18 available roster spots, eight are occupied by second-year players. Reece Robinson will play guard and wear No. 30, Terrian Roy will also play guard, donning No. 2, Brady Arbon will play wing with jersey No. 5, Mark Huber is set to play guard in No. 12, Sheldon Romriel will play wing wearing No. 15, Jack Jamele will play wing with jersey No. 22, Braden Heaton will take the post position wearing No. 25, and Dyson Lighthall will play forward with No. 32. These second-year players will serve as excellent role models and leaders for the newcomers.
The team also welcomes ten first-year players for the 2023-2024 basketball season, rounding out the 18-man roster. LaQwon Cole will wear No. 1 and play point guard, Trace Ross will wear No. 3 and also play point guard, Ethan Copeland is set to wear No. 4 and play shooting guard, Ryker Richards will don No. 11 and play wing, Kendall Alexander will wear No. 13 and play forward, Cole Cripps will wear No. 14 and play guard, Justin Anderson will wear No. 20 and play point guard, Taft Mitchell will wear No. 21 and play guard/forward, Will Johnson will wear No. 23 and play guard/forward, and Martel Williams will wear No. 33 and play guard. Each of these young players will bring their unique skills and talents to Coach Evans' team, showing great potential for the Utah State University Eastern Men's Basketball program.
The basketball season kicks off rapidly, with the Men's Basketball Team traveling to Rock Springs, Wyoming to compete in the Western Wyoming Tournament. On Nov. 3, they will face Central Wyoming College, followed by a game against Western Wyoming Community College on Nov. 4. The team will then participate in the Salt Lake Community College Invite in Taylorsville, Utah, where they will compete against two teams. First, they will take on Northeastern Junior College on Nov. 10, and the second game will be against Eastern Wyoming College on Nov. 11. With abundant talent on this young team, the upcoming season promises to be an exciting one for Utah State University Eastern's Men's Basketball program in 2023-2024.