Local biker hopes Carbon County will be the next tourist stop for mountain biking enthusiasts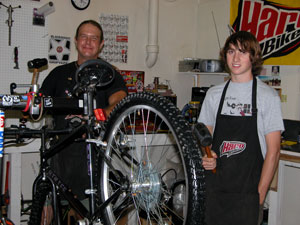 This archived article was written by: Mik Ashby
If someone were to walk up to you and compare Price to Hawaii, you would probably think they were crazy, or even get a group of friends together and do a community stoning. But one man does say that Price is to biking, as Hawaii is to surfing.
Decker's Bike store manager, and CEU instructor Fuzzy Nance, has no problem making this comparison, and with the variety of local trails, from the easiest of riding on flat land in the open desert, to the seemingly uncharted trails of Nine-Mile Canyon, and also the man-made paths like the recently completed "Luke's Trail" on Wood Hill, he may have a good point. Also with the plans of making additional trails, the local area will only become better. He admits his love for the vastness and abundance of mountain biking in this area.
Nance's passion for biking dates back to when he was 12 years, and first realized that the closet way to becoming one with nature was behind the bars of a mountain bike. Nance likes to quote the Tao, "From of old there are not lacking things that have attained oneness" "the earth attained oneness and became calm" "Barons and princesses attained oneness and became sovereign rulers of the world" "If the earth were not clam, it would likely burst into bits" "If the Barons and princesses were not the sovereign rulers, they would be likely to stumble and fall."
Besides his philosophical passion for biking, he says one of the best benefits of biking is its ability to channel stress into a productive and healthy activity.
Since college students are constantly under pressure, it seems natural that biking would help students to get rid of their excess anxiety and make them happier, healthier students. Other benefits include the joy of seeing the wonderful sights that are sometimes only available to those on bikes. Another benefit is that biking is exercise, so you can burn off the freshman 15 pounds, even if you got them last year.
Some lack the experience to get on a bike and ride on the trails, so they give up thinking that there is no hope, but there really is. On Thursday at 6 p.m. Nance teaches a biking class, which still has openings. The class is designed to teach people that can't ride how to ride, and also to give a fun time to those that were born on bikes.
The class is especially designed to accommodate females. Nance claims that the class is the most fun one in the school, as long as you can participate on the over night bike trips on Saturday nights and Sunday mornings to such places as Moab, and Park City. The class will definitely help your GPA, considering the only requirements are participation and improvement. For more information contact your counselor.
If you want to start biking, but can't join the class, or don't want to, there are some things that you can do to do it on your own. First start with a quality bike, according to Nance, "there is nothing worse then when someone gets on a cheap bike, has a bad experience, and gives up." Next, always wear a helmet when you are biking, since you will probably be pushing yourself, accidents will happen, and proper protection will help to prevent serious injury. But these accidents shouldn't deter you from riding.
When you are riding, Nance suggests that you should focus more on slow precision riding rather than the fast riding. Next you need to remember to keep your bike in good condition, twice annually getting a tune up. Letting your bike fall into disrepair could be hazardous to your health. but most of all if you are beginning, just remember to have fun, after all that is the point of mountain biking.