"Cash on Delivery" opens next Thursday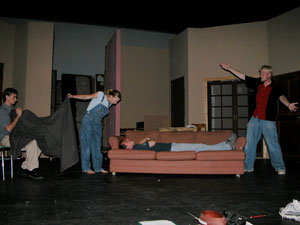 This archived article was written by: Andrew Stilson
The College of Eastern Utah is opening its first play of the season, "Cash on Delivery," on September 18-23 with Sunday being excluded. All performances will be at the Geary Theatre. The play is by Michael Cooney, and is a British Comedy about defrauding the Social Security System. It is light in character.
The entire cast has proven themselves, said Director Dr. Corey Ewan. They have the ability to follow directions, show their talents, and take on the challenges of the play. They have been ready since day one.
The play begins when an unemployed landlord, Eric Swan, finds himself at risk of being discovered for conning the Department of Social Security out thousands of dollars. When he attempts to fix the fraud by killing his tenants and canceling benefits, some things get complicated when the Department of Social Security insists on sending out more money and an inspector. At this point Eric Swan is forced to involve his Uncle George and another tenant to stop his arrest and discovery of the victims.
This year's cast for the Cash on Delivery play is; Tim Tuke from Davis High School, who plays Eric Swan. He says "the play is fast paced and full of energy." Phil Smith from Cyprus, who plays Uncle George, says, "I like the part where I get to run around in my underwear and I like the window seat." Harrison Odell from Bonneville, plays Norman McDonald, adds, "it is a very complex and funny play."
Nick Dunn from Carbon, plays Dr. Chapman, says, "the main challenge is the physical energy." Sam Bailey from Carbon, plays Mr. Jenkins adds, "I love Nick's socks and enjoy the entire cast. They are talented and funny." Angie Roundy from Carbon, plays Sally Chessington adds, "I love the personality of the cast and how they always mess up on their lines." Sheri Gillies from Davis, plays Linda Swan, says, "I like the British accents, the pace of the play, and I hate the pain stick."
The cast members have worked long and hard in this production. They have the ability to follow directions and the willingness to trust. The play is in their favor and their credit said Ewan. We are like a little family. We support one another.
Everyone is encouraged to come laugh and enjoy the fun at the Geary Theatre. All performances are at 7:30 PM. The box office opens for ticket sales September 18th at 6 PM. Prices for tickets is $7 adults, $3 faculty, $5 high school students and senior citizens, and $2 CEU students with activity card.