Show me the money: A breakdown of the $167 student fees
Over $500,000 was spent out of students' pockets for student fees this year. Each CEU student is required to pay $167 dollars for student fees.
The biggest chunk of funds goes into paying for the College Center which is $44 per semester and another $5.50 for operations of the center. Student activities get $30 each semester.
Paying for Burtenshaw Residence Hall is the third largest fee with $28 appropriated followed by the athletic department with $25 given per semester to run the intercollegiate athletics.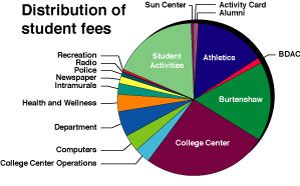 This archived article was written by: Gypsie Delgado
Over $500,000 was spent out of students' pockets for student fees this year. Each CEU student is required to pay $167 dollars for student fees.
The biggest chunk of funds goes into paying for the College Center which is $44 per semester and another $5.50 for operations of the center. Student activities get $30 each semester.
Paying for Burtenshaw Residence Hall is the third largest fee with $28 appropriated followed by the athletic department with $25 given per semester to run the intercollegiate athletics.
The smaller fees include $9 going into departmental budgets, $6 each allocated to computers and the Health and Wellness Center, $4 for intramurals, $2.50 for the Eagle newspaper, $2 to the BDAC, $1.50 for campus police, $1 for the SUN Center, 80 cents each to the campus recreation department and an activity card, 70 cents to the alumni association, and 20 cents to the campus radio station.
Alden Moon, ASCEU financial vice president, describes where student's money is going. "Each year the Student Fee Allocation Committee gets together and decides where your money is going and whether the money was benefiting the students or it wasn't. The main key to this is it is supposed to benefit every student unless it has to do with supplies that certain areas needed," Moon said.
The Student Fee Allocation Committee is made of nine CEU students, six from ASCEU and three that are appointed from outside leadership class.
"We are organizing the Student Fee Allocation Committee next month and want people who have the desire to help out to help determine if these groups are spending their money wisely to be on the committee," he said.
"People who are willing to do research and analyze the budget to look at how they are spending their money but also we want students to express their opinions if they like it [budget] and if people have individual concerns about their money, because it's hard, $167 dollars is a lot of money for a poor college student to come up with each semester. It's hard to fork out the dough when they are asking a lot for books and everything else. The Student Fee Allocation Committee is always looking for other ways to spend the money. We are always up for ideas. We want more students to express their opinions," he added.
"A lot of times people don't know where there money is going and that is why they have a hard time spending it," he said.
"But if you look at the intramural program, it's really taken off, just the past couple of years, they never really received any money and it struggled a lot, but they're receiving more and more money and it's becoming bigger and bigger. Our goal is to help students become involved, more united, and have more activities for students to do. Also the activities that are put on throughout the year are brought about by the money we put in. Activities receive a nice portion of the money which helps us sponsor quality activities, like Paradigm, Peter Brienholt or to rent the wave pool. The activities are brought about because we're spending money," Moon said.
"The students are really the ones that run the show here and a lot of people don't understand that but if they'll understand and voice their opinion, then CEU continually will get better because it will become a place where the students want to be at because the students are getting what they want," Moon expressed.
"More of ASCEU commitment is to save money for the students. Students can now use there activity cards for discounts around the community. Businesses will put up the CEU logo sticker in their windows so you know where you can get discounts," said Moon. Participating businesses will be updated and listed on ASCEU's website.
Current Participating local businesses are:
• Price Oil Express: $2 off full service
• Pinnacle Sports: $10 off any pair of athletic or hiking footwear
• Marie's Fine Dining: milk shake and appetizer of mushrooms or onion rings for $4.99
• Papa Murphy's: $2 off any regular priced pizza
• Greek Streak: 10% off
• Becky's Brews & Bakery: 10% off
If you're interested in being on Student Allocation Committee, interviews will be held next month. Contact Alden Moon, vice president of finances at:
[email protected]