New Pilates classes offered at CEU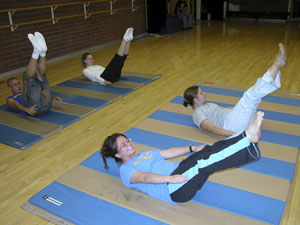 This archived article was written by: Carli Jensen
Most people desire to know the secret of weight loss. This secret is part of the newest fitness program to help keep body's lean and sculpted. This program is called Winsor Pilates and is being offered through CEU's physical education department.
The Winsor Pilates program is designed to tone and sculpt the entire body and help you lose weight, all at the same time. Mari Winsor, who is known as one of the most sought-after trainers in Hollywood, created this program. She has been teaching her techniques 16 years, but to most people around CEU, they just recently are hearing about it.
With over four million videos already sold, this program is guaranteed to sculpt and tone your body in as little as 20 minutes a day. The key to the program is the "dynamic sequencing" which is a combination of controlled movements that help to sculpt long, lean muscles in a fraction of the time of other workouts.
There are three main videos that you can buy on the internet or order from your TV for $50: a basic video that is 30-minutes long, the "20-Minute Workout" video, and the Accelerated Body Sculpting video. You can also purchase three other videos, the Winsor Dozen, a Sculpting Journal, and the Win-in-10 meal plan.
Pilates had been called the best-kept secret of the stars for years, but now its out. In using Pilates, it is more important to execute a few repetitions of an exercise rather than numerous, mindless repetitions. During a class the students do this and the result is longer, leaner muscles, clarity of mind, and a feeling of refreshment when you are done. Pilates uses elements of Yoga, swimming, and breathing techniques.
The Pilates class at CEU is being taught by Kim Zollinger every Tuesday and Thursday from 7 to 8 pm. Kim was asked by the physical education department at CEU to a Pilates class. Kim is quite qualified for the position with her bachelors degree in physical education and her masters in sports administration. The class runs twice every semester, the next chance for students to sign up will be halfway through the semester when the new class starts. If you are interested in Pilates you can find order information and many success stories at www.winsorpilates.com/.