Petroglyph preservations highlight museum art exhibit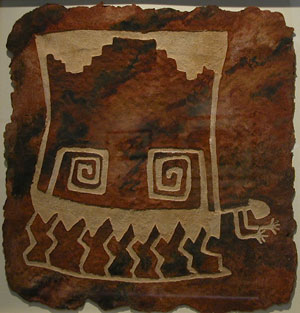 Arlene Meade Connolly is the featured artist at the CEU Prehistoric Museum's gallery throughout October.
Connolly's passion for petroglyphs has motivated her to develop an art style emphasizing preservation and recycling. Lost history plus the effects of vandalism and natural erosion on rock art panels is this Nevada artist's motivation to create panted paper-cast rock facimiles that replicate ancestral art.
Connolly is a professional artist and teacher living in Nevada who studies an preserves the ancient messages. She visits each site to sketch and photograph rock art, and then recreates the ancient message in a 3-D effect on pH-neutralized, recycled paper, adding minerals to her secret recipe. Minus bullet holes and graffiti, this work is as close to the original design as possible. Preserving these treasures from the past so that others can appreciate them is the impetus behind her efforts.
Connolly has studied the history of the inhabitants who made the petroglyphs. She is an avid reader of archaeological research and seeks to understand the petroglyph messages. Legends, mythologies, and ceremonies are often tied into the meaning of the petroglyph left behind for us to attempt to decipher.
"When I stand in front of rock, time dissolves, the ancients reach out through the past to present a message written in stone," Connolly said. "At that moment, the message is there for me. Currently I am studying the connection an dissimilarities of rock art around the world. I have found a site in Arizona that is almost identical to one in both Italy and Kyrzurkistan! Wouldn't it be spectacular if the world suddenly woke up and realized that we are all one? Is it possible that our differences could dissolve?
"Each person that connects with my work, connects to a message for them. Some people cry, some are speechless. There is an intuitive interaction that occurs. It is almost like a light turned on. The light has certainly been turned on for me. When I stand in front of rock art, messages come flooding into me."
Her work is in museums, corporate offices, private collections around the world, and was chosen by the Salt Lake Olympic Committee to decorate the Olympic Village during the 2002 Winter Games. It was an exciting chance to show the athletes of the world the rock art of America.
Her dreams of demonstrating our global connections seem well within reach.