Lanier travels and education helps land teaching position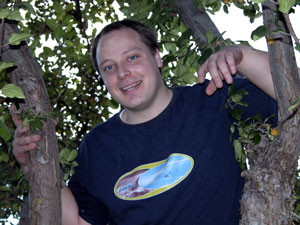 This archived article was written by: Carli Jensen
When CEU's administration chose to promote Cliff Coppersmith to vice president of academics, they approached Billy Lanier about teaching Coppersmith's class load. He is currently teaching history 1010, history 1700 and sociology 1010.
Billy Lanier has been working on campus in one capacity or another for several years. Prior to working as a member of the faculty, Darlene Severeid offered him a job working with the advising center. He really enjoyed this experience because not only was it a great work environment, but it was also here that he realized how much he enjoys working with students. During this period he took classes such as Latin American History and Creative minding to "keep [his] mind from turning to mush."
While attending classes, he worked to finish his master's thesis, which dealt with genocide and holocausts, and the arts. In June 2003 Lanier graduated from Bond University, located in Queensland Australia with a master's of arts degree in International Diplomacy. Prior to earning his master's, he earned his bachelor's of arts degree, triple majoring in history, psychology and government, from William Penn University in Oskaloosa, Iowa. Because William Penn is a private Quaker school, was given many opportunities to be the "outsider." Often times this worked to his advantage. At "Penn", he worked for the newspaper writing weekly articles in his column, From William's Penn. He also worked at the Wilcox Library where he restored the Quaker collection – the largest privately owned collection of books dealing with Quakers (also known as the Society of Friends) West of the Mississippi. Lanier also earned two associates degrees from the college of Eastern Utah – an associates in science with English emphasis, and an associates of applied sciences in early childhood development. He feels that his education classes, taught by CEU's Phil Brown and Kerina Allred, really have helped him more than any other courses in his new role as adjunct professor.
Lanier grew up in West Valley and made a deal with a friend, that is she came back to school he would go to CEU. His friend left after a semester, but Lanier liked the college and Price so much that he stuck around. He feels strongly that "there is always something to do in Price, it is just a matter of getting involved." By taking classes while teaching, he is constantly reminded of how much work his students are doing – both inside the classroom and on their own time. "College is about a lot more than just taking classes and memorizing facts – it is about learning who you are, and what you want out of life."
Travel has always been a part of Lanier's life – he has visited most of Western Europe, Greece, Australia and South East Asia. When asked which place he enjoyed the most he emphatically says, "Cambodia – the people there are so humble and happy – even those who have lost limbs due to land mines in their fields. You can learn a lot about joy there." He said, "The most important thing we can do in the world is understand each other, and that will resolve conflicts for us and make this a better place to be."
Lanier's favorite part of his job is working with the students. He is constantly amazed at how willing they are to learn – even when he gives them unusual assignments such as taking the name off a headstone at the local cemetery, and writing a life story based on nothing more than the birth and death dates. At times he does feel restricted by the confines of campus saying that he "would love to take [his] students to the places that they are talking about in class." He is currently working under a one year contract, and will be teaching Sociology, American Civilization and American National Government Spring Semester 2004. After that he is considering returning to school to earn a Ph.D., possibly in sociology, but says, "anything is possible."
Adam Merryweather, a student in Lanier's sociology class, said, "you learn a lot about how cultures interact and it really improves your ability to become a better citizen." Another student, Ben Gibson, said, "after serving a mission in New Zealand, I was interested in learning about other cultures, and Billy has been to most of the places we discuss, so it's real life teaching based on experience instead of teaching just out of the book."
Lanier can be found MWF from 9-10 a.m. in room 239 of the CBB.