CEU'S Brent Haddock selected to restrike LeConte Stewart etchings
CEU's Fine Arts professor and Master Printmaker, Brent Haddock, was recently selected to restrike the copper-plate etchings of renowned artist, LeConte Stewart.
Stewart is a former chairman of the art department at University of Utah. He is well known for his unidealized paintings of rural Utah. He is also known in the LDS culture for his large scale murals in the Hawaii; Mesa, Ariz. and Alberta, Canada temples.
For years, Haddock has held a deep admiration and respect for Stewart and his legacy of art.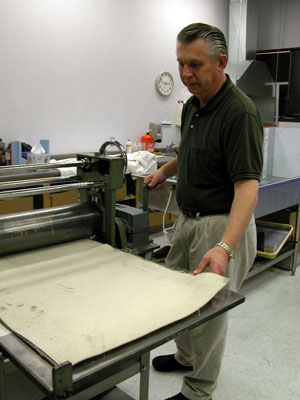 This archived article was written by: Rebecca Jensen
CEU's Fine Arts professor and Master Printmaker, Brent Haddock, was recently selected to restrike the copper-plate etchings of renowned artist, LeConte Stewart.
Stewart is a former chairman of the art department at University of Utah. He is well known for his unidealized paintings of rural Utah. He is also known in the LDS culture for his large scale murals in the Hawaii; Mesa, Ariz. and Alberta, Canada temples.
For years, Haddock has held a deep admiration and respect for Stewart and his legacy of art.
"It's such a privilege for me to be able to do this … This is not a money venture for me. I'm doing [this] out of respect and reverence for somebody that I have tremendous admiration for; that's LeConte Stewart," Haddock said.
Haddock was selected to restrike the etchings following an online dialogue and subsequent interview with Stewart's grandson, Monty Stewart.
Restrikes are prints made from an artist's original work, usually after the artist's death. Because the artist did not produce the printed form of his/her work, the prints cannot bear the artist's signature.
Once Haddock has completed a restrike, the result is an authentic intaglio print of the artist's work which can be given a certificate of authenticity.
Haddock is working with 30 copper plates, some of them 50-60 years old. Following Stewart's death, these plates were left to his only daughter; a quarter of Stewart's plates.
Many of the plates have come to a deteriorated state due to their age and materials in which they were wrapped.
"It's been quite a task to polish the plates using various methods, but we've been able to polish them up to where they give very good prints.
" … in comparing these prints to [LeConte Stewart's] original prints, we're able to maintain the integrity of the prints. It's been exciting," Haddock said.
With the help of Monty Stewart and Monty's wife, Haddock has been able to print 100 etchings from 20 plates.
The Stewart family is in the process of researching the market and presenting the prints to the public. Contingent upon response, the project will continue.
"There will be a limited number [of prints], this isn't something that's indefinite … each one of these is printed by hand with meticulous [care] then run through an etching press with 800 pounds of pressure per square inch. They're all printed on 100 percent rag content paper made in Europe," Haddock said.
In return for the use of CEU's facilities, equipment, and Haddock's expertise, the family will give the college a suite of prints that will eventually be displayed in Gallery East.
Haddock is pleased to be a part of the project, knowing that "[Stewart's] heritage can live on and more people can enjoy his works … It's phenomenal."