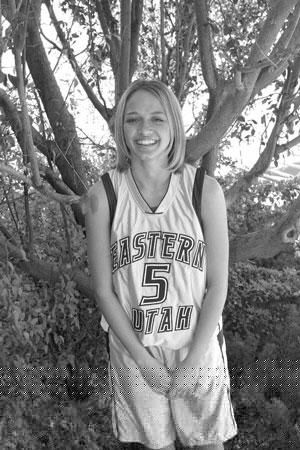 This archived article was written by: Jennifer Jarrett
Coming from Helper, Utah, Cassie Warburton has grown up knowing about the College of Eastern Utah and Price all her life. During her senior year at Carbon High, she was offered a scholarship and a chance to play two sports, volleyball and basketball here at the school. She really liked what she knew of the coaches and decided this is where she wanted to be.
Warburton is the daughter of John and Stacy Warburton, and one of six children, all of which all play sports. She got started in basketball while watching one of her younger sister Chelsey's Jr. Jazz games. Up until then she had wanted to be a cheerleader, but she said, "I really got into the game and decided that's what I wanted to do and decided to play."
When Coach Paur first saw Warburton play he noticed her talent and skill. "She was very aggressive, had a nice shot, and played full court." Warburton played CEU's guard position and started that position only a couple of years ago. Her favorite part of playing for CEU has been getting to know all the girls and hanging out with different people. She said, "We are just a funny team. Everyone has totally different personalities, sometimes they clashed but for the most part we got along."
All of Warburton's teammates seemed to get along well with her. Lindsey Arnoldus said, "She has been so much fun to play with, she has amazing talent and is a cimply awesome guard player. She was always so cheerful and seemed to help everyone feel like they fit in with the team." Marcy Neilson said, "I am glad that I was able to play with Cassie, she always played her hardest weather in a game or at practice. She got the rest of us pumped up and ready to win."
Warburton's favorite game of the season was playing Seward County, "They were ranked third in the nation and we beat them!" she said., "but also playing Dixie, we finally pulled it together and beat them." The most important thing that Warburton has learned is "if you're not working hard, there's someone out there who is." Head Coach Dave Paur commented, "Cassie has been a great athlete to work with, she works hard and enjoys the game and what she does, she knows how to push herself. She has been a great example and leader for her teammates both years."
Warburton is undecided in a major and isn't sure yet where she would like to attend school next year, wherever it is though, she will be playing ball.