Ahlstrom hopes to make student life better through communication with the administration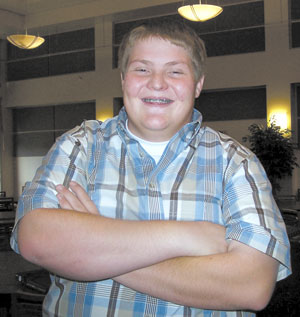 This archived article was written by: Carlie Golden
Concerned about the new dorm policy or maybe having your room checked once a week? Then let me introduce you to the 2004-05 residential life chair, the guy making sure your voice is getting heard by the administration.
His name is Lyle Ahlstrom and he is here to serve you. He comes from Tooele, Utah and is in his second year at CEU. His goals are to improve the living conditions in the dorms, letting students know that he is here to listen to their concerns and that they have a voice.
With all the recent changes in the food service program, Ahlstom said he is concerned and working with the residential life staff to make them more student friendly. The cafeteria has already responded and reopened for a second meal on Saturday, Sundays are still pending, the deciding factor will be how many students stay on the weekend.
"Many students have to step up to the plate if they want things changed, they need to come and talk to me and let me know of their concerns, and instead of complaining, solutions would be best" stated Ahlstrom. " I want to help, and I can get our voices heard, I just need patience from people and time, things don't change overnight."
Another concern of the students is the weekly room checks that will be starting today. Ahlstrom fully backs the new policy and decision. "I voted for it because we need to start taking responsibility for our actions. Students have been very unclean in the past, as well as abusive to their apartments. It's our fault that this policy was created".
Another project he is working on is a student phone directory. He plans on having all those who attend CEU listed in the phone book, in order to be in the directory, you must first sign a waiver stating that you are okay having your information published. "A lot of students have no idea where their new friends are located, I think this will help a lot of students become more acquainted with their neighbors and to make new friends".
Another project he is working on is getting dormitory signs put on the residence halls. This has been an on going project for the past three years and Almstrom is hoping to accomplish it this year.
If any student has a concern about any recent or old changes in the policy, contact him in the ASCEU office. If you would like to see changes in the cafeteria menu, contact him about his food service committee. They meet every second Wednesday at 7 p.m. in the ASCEU office.
Other news from ASCEU: remember that the Lite Brite Dance is on September 18 in the old ballroom. Lastly, in order for change to occur, all you have to do is let ASCEU leadership know of your concerns and we'll take care of it as quickly as possible.