Native Argentinian has high hopes for CEU soccer season
From Argentina to Orem and now here in Price, CEU's Ivan Carroll just can't get enough soccer.
Carroll has been playing soccer his whole life. Whether it was out with his dad and brother's or playing on a team since he was twelve years old. No wonder he is now playing and captain of CEU's club soccer team.
Carroll is the youngest child of five and his parents are Dennis and Lilian Carroll. His dad has always been there to play soccer, and just recently, his mom has started playing. In fact, he was proud to say, "That at 48, she scored her first goal just last week."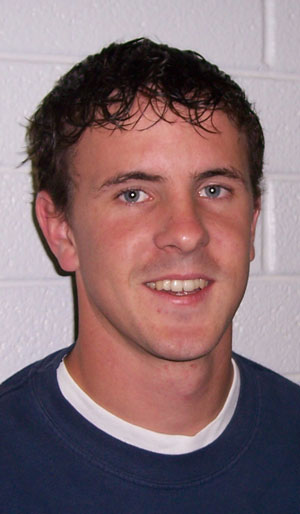 This archived article was written by: Shelly Gledhill
From Argentina to Orem and now here in Price, CEU's Ivan Carroll just can't get enough soccer.
Carroll has been playing soccer his whole life. Whether it was out with his dad and brother's or playing on a team since he was twelve years old. No wonder he is now playing and captain of CEU's club soccer team.
Carroll is the youngest child of five and his parents are Dennis and Lilian Carroll. His dad has always been there to play soccer, and just recently, his mom has started playing. In fact, he was proud to say, "That at 48, she scored her first goal just last week."
In January 1989, his parents decided to come to the U.S. to get out of the economic trouble that the country was heading into. His dad had a friend in Provo, so they came to Utah to settle in Orem.
Carroll graduated from Orem High and ended up at CEU the following fall. How did he end up at CEU? "Well it's a funny story. I was a senior in high school, and a bit of a slacker. I don't know if you ever noticed but CEU has the latest application deadline. So it was the last day to apply to any school in the state, and it was CEU. So I got online and called my mom for a credit card number for the application fee … and I was accepted.
"The reason I actually came down instead of trying to get into UVSC or something, is because I came down and Dan Wood was an ambassador. He showed me around and I don't know, I just really liked it and the way he talked about it. So I decided to come down."
His favorite part about CEU involves three things. "Rooming with Sterling [Mumford], the atmosphere in Sessions … everyone knows each other and hangs out, and the Roadtrippin' Club."
Mumford stated, "Ivan is a great guy. He makes coming to CEU all worth while."
Unfortunately, Carroll will only be here throughout the semester. At which time he will graduate and move back home to Orem to help run the family business.
Until then, he hopes to be able to "win a whole lot of soccer games, go on a whole lot of road trips, and get to know people outside of Sessions."
When he leaves CEU, he plans to get his bachelor degree in business management and continue to work and take over his parents business.
His parents opened a bakery five years ago in Orem called La Brioche. They then expanded and opened another one in Salt Lake, January of this year. It is a bakery, and a place where products are imported from Argentina.
"There are a lot of people that I look up to, but if I had to pick one … it would be David Card. We used to be neighbors in Orem. He's just a really good guy. He's a good guy, a hard worker, he's way nice, way athletic, he's just a combination of a lot of really good qualities."
Carroll's favorite soccer team is River Plate, a team in Argentina. He loves to play soccer and to watch it. He looks forward to next year when Utah will have it's own MLS team and play at Rice Eccles Stadium. Watch for more news to be announced next month.
CEU's first home game is Friday September 24th against Snow College. He encourages everyone to come out to the game and buy raffle tickets to help support the team and their fundraising efforts.