Center offers therapeutic help to students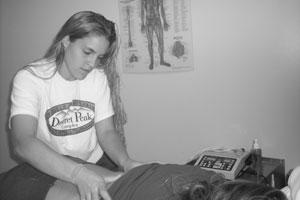 This archived article was written by: Laura Strate
If you're injured, interested in a personal trainer, or would just like to work out, the Wellness Center located near the Castleview Hospital is the place to go. The Wellness Center offers a variety of therapeutic help as well as physical classes and activities.
Three types of therapists are available to the public. A physical therapist helps strengthen weakened muscles in the arms, legs or back due to injury. An occupational therapist tunes the finer motor skills such as writing or buttoning a shirt. A speech therapist is also available upon request.
If you do need to seek help from a therapist a prescription is required from a doctor says Brian Bowell, temporary director of the facility. Most insurance will take care of the therapy, regardless of where a person is from.
The Wellness Center offers workout machinery for a monthly cost of $35 per person or $45 per couple. During the first visit, the staff will give an orientation of the facility and are glad to answer any questions on how to operate the machines. A personal trainer is available upon request for $25 per hour.
Aquatic classes are held Monday, Wednesday and Friday for people with arthritis and pregnant women. Classes run $2 per class or $15 for 10 classes.
If you're feeling a little sore or just in the mood for a massage, a massage therapist is on duty for a fee of $40 an hour, $25 per half hour or $15 for 15 minutes.
The Wellness Center not only has a knowledgeable staff, they help assist all the College of Eastern Utah sports teams. Stop by for additional information. Children under 18 are not allowed.