Gubernatorial candidate hopes to reform attitude toward education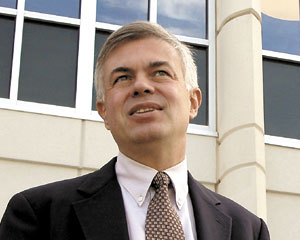 This archived article was written by: Les Bowen
"The race for governor is a horse race," said Scott Matheson, the democratic candidate for governor, Tuesday in an interview with The Eagle. On his way to a visit with the South Eastern Utah Association of Local Governments, Matheson and members of his election team stopped to visit with members of the local and college press.
Matheson is in a dead heat with republican candidate John Huntsman Jr., according to a poll of likely voters conducted by Garin HartYoung on Sept. 28 and 29. The poll of statewide voters has a margin of error of 4.4 percent.
"Education is the key to the future of the state," said Matheson, who considers both public and higher education to be critical issues in the gubernatorial race. He recognizes the importance of partnering education with state and local governments. "That is a key difference between me and the other candidate," he continued.
"Education plays a critical role in economic development." He explained that the state budget has recorded a decline in the percentage of state funds going to education. "That's a trend I want to see reversed," he said. Utahans have historically placed considerable value in education. Matheson believes that the issue is a key issue and is making it a priority area in his campaign.
Matheson also addressed public education. "I'm against tax credits and vouchers," he explained. He believes that such programs move education in the wrong direction. He further told the press that he dislikes the No Child Left Behind Act. "But we need to fix it, not walk away from it," he continued. Utah public education would suffer a $103 million cut in funding should the state choose to refuse participation.
He also believes that an equitable balance in infrastructure planning is a critical issue in the state. If elected, Matheson plans to create a transportation funding forum to discover transportation needs. In order to protect all interests, all areas in the state, not just the Wasatch Front, need a seat at the table, he says.
Matheson considers water management a key voter issue this year. He believes that state planning should have sensitivity to local planning needs, and that conservation and state funding of water management programs should continue. With changes in Medicaid, he holds that the state must take a leadership and partnership role in working with federal and local programs in the area of healthcare.
Homeland security has become a key voting issue in the last three years. Matheson hopes to work with state and local governments as well as the business community to improve Utah's position. "Because of the Olympics, we are a leader in homeland security," he commented. Higher education plays a role in the issue, as colleges and universities are developing programs to educate students who will play a significant part in homeland security as they enter careers in the field. Last week, he proposed a governor's homeland security advisory council to deal with the issue. "The state has done a very good job. It's a matter of taking the next step."
Matheson attended East High School before studying economics at Stanford University. He was selected as a Rhodes Scholar to attend Oxford University, where he received a master's degree in modern history. His education continued with a law degree from Yale University. He is on leave from his position as dean of the University of Utah law school, and was a visiting associate professor at the John F. Kennedy School of Government at Harvard.
He has held various government positions including U.S. Attorney for Utah and deputy county attorney prosecuting felony cases in Salt lake County. He has also served in community positions such as president of the Salt Lake Legal Aid Society Board, member on the Board of TeeUtah and coached youth basketball and soccer. He served as a member the Utah Constitutional Revision Commission, chair of the Utah Supreme Court Advisory Committee on the Rules of Evidence and sat on the Rhodes Scholarship Selection Committee for Utah.