Scissors Sisters cut into America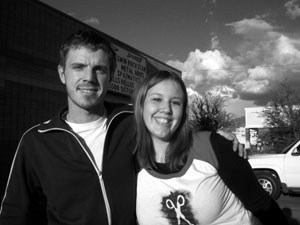 This archived article was written by: Kimberlee Ritchie
Scissor Sisters, a rock band that took England by storm over the spring and summer months, made their way back to America in September and recently completed the first US leg of their international tour.
The band originated in New York City and released their first single, a cover of Pink Floyd's Comfortably Numb, in the United Kingdom on January 19. They've gone onto play at Glastonbury and open for acts such as Elton John since and have become celebrities overseas.
As far as the states are concerned, however, they're still a fledgling rock band, playing for the most part in bars and other smaller venues. They released their first U.S. single, "Take Your Mama Out", earlier this summer, their album July 27 and flew through the continental states in less than a month.
One of the venues slated for their whirlwind US tour was Liquid Joe's in Salt Lake City.
After a day of sightseeing around Temple Square, they returned to the tiny Salt Lake bar. Having shown up three hours early, I got to meet the band beforehand and I don't think there has ever been a more down-to-earth rock band. Having heard the situation that my friend and I were a few months away from 21, they tried to get us into a sound check. Even though the bar wasn't open, the strict Utah liquor laws would not permit us access. Or perhaps it was the strict managers.
They came out one by one to meet with my friend and me. All except for singer Ana Matronic, for she wasn't feeling terribly well.