Soccer club looks to turn season around with wins this weekend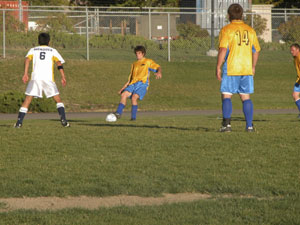 This archived article was written by: Sterling Mumford
As the school year moves along and we move into October, the hard nosed, College of Eastern Utah soccer team keeps trudging along. The team is looking better and better every time they step out into the field. As the fans are huddled together on the bleachers trying not to catch a cold, the soccer team is sweating it out, hustling on every play.
The team took on Snow College on September 24 and looked very much improved from losses earlier in the season. Although the team took a loss in the match, Coach Ron Dadgari was very impressed with the way they continue to improve. Coach Dadgari, who grew up playing soccer in Iran, still likes his team's chances. Dadgari could be seen all game up and down the sidelines, yelling out instructions and doing all he can to help the team out. Dadgari enjoys taking time out of his life to coach the CEU team.
This past weekend CEU took on the reigning tournament champions, Weber State. Even with them winning last spring it did not have any effect on CEU's squad. They came out prepared and ready for a fight. With only about three minutes in the game Weber struck first with a wacky play which had one of CEU's players accidentally scoring on its own goal. The rest of the game was a dog fight with neither team really having an advantage. Weber ended up scoring another goal in the 88th minute of the game.
"Our offense is really struggling right now," says Coach Dadgari. With Toshi Shinozuki still out with a torn tendon, the team is looking for someone to step up and take the lead on offense. Dadgari loves soccer so much that he played for the first 20 minutes of the Weber game. According to league rules, twenty-five percent of the team can consist of non-students. So trying to help his team in any way he can, Dadgari suited up and played. "With a coach as dedicated as that, who wouldn't want to play for him," said Shawn Oram.
Even with a 0-4 record going into this weekend the team still has its head up high. "I've been really impressed with the team these last two games. As soon as we get a few more kinks worked out, I have no doubt we can face up to any team in our league," said team captain Ivan Carroll with confidence. Coach Dadgari believes he has some of the best players in the league. "Tyler King is the best goalie in the conference, Period!!" said Dadgari.
The team still looks a bit rusty but with Ivan Carroll and Dan Wood back in action the team looked a lot more focused and more like a team. "I'm not going to lie to ya. The best thing about CEU soccer is Ivan Carroll," says Teandra Leithead, who has promised to attend all the home games and cheer on the team. There are many students and faculty who have shown up to support the team. "I like to look at the guys on the field. It is also nice to see some sports action when the volleyball team isn't in town," says Krystal Jensen.
The soccer club has two games this weekend. Both rematches and you can bet that CEU is looking to flip-flop the score on both Dixie State College and Southern Utah University.